New Primary Care Physician Based in Lakeland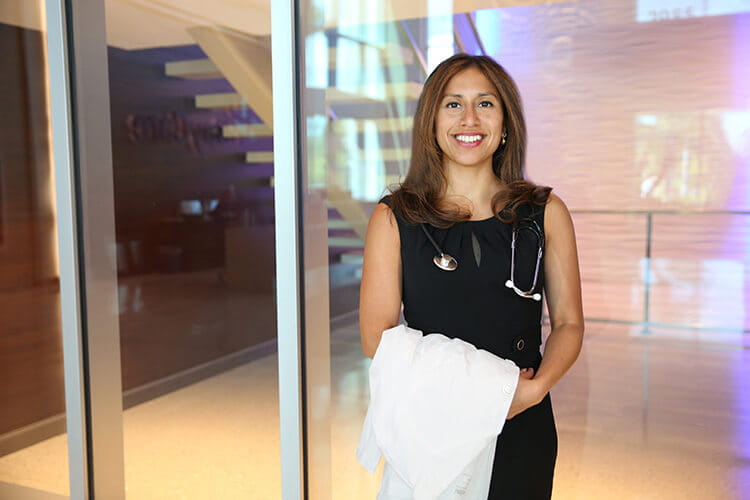 POLK COUNTY, Fla., (Dec. 4, 2020)
– A new BayCare Medical Group primary care physician is now seeing patients at one of Polk's family health centers.
Dr. Andrea Hastings is seeing patients both in-person and through telemedicine visits from the Lakeland clinic, which is located at 619 Midflorida Drive, #1.
Dr. Hastings was born in Chicago and developed an early interest in the medical field because of her mother, who has worked in the medical field with various physicians and has encouraged her along the way. She recalls that one doctor, in particular, allowed her to get more hands-on experience than typical.
"I would come in for 'Take Your Daughter to Work Day' and this doctor would teach me to take blood pressure and to draw labs," Dr. Hastings laughed. "I got immersed."
She then joined a medical program in high school and went on to receive her undergraduate degree in biology from the University of Florida. Dr. Hastings received her medical degree from St. George's University in Grenada, which gave her an opportunity to work in hospitals in London and New York as well.
She lives in Polk County with her husband and two small children, and has a cat named Squeak.
She completed a family medicine residency at St. Elizabeth Youngstown Hospital/Mercy Health in Youngstown, Ohio. Dr. Hastings is seeing patients of all ages and is also fluent in Spanish.
To make an appointment, call the center at (863) 701-7188.
About BayCare Medical Group
BayCare Medical Group is the largest multi-specialty physician group in the greater Tampa Bay area, with more than 500 providers and 40 specialties. In 2014, HealthPoint Medical Group, Morton Plant Mease Primary Care and Specialists, St. Anthony's Primary Care and Specialists and Suncoast Medical Clinic formed to become BayCare Medical Group. In 2016, Winter Haven Hospital's Family Health Centers and employed physician specialists, as well as Bartow Regional Medical Center's employed physicians joined BayCare Medical Group. For more information, visit www.
BayCareMedicalGroup.org
About BayCare Health System
BayCare is a leading not-for-profit health care system that connects individuals and families to a wide range of services at 15 hospitals and hundreds of other convenient locations throughout the Tampa Bay and west central Florida regions. Inpatient and outpatient services include acute care, primary care, imaging, laboratory, behavioral health, home care, and wellness. Our mission is to improve the health of all we serve through community-owned health care services that set the standard for high-quality, compassionate care. For more information, visit
www.BayCare.org