Healthy Holiday Oatmeal Apple Chew Cookies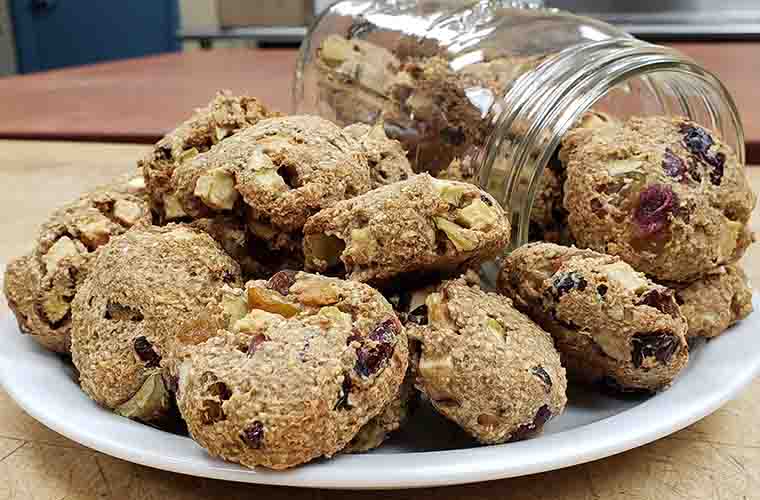 Tis the season for cookies! Celebrate the holidays with a favorite from JJ Layton, executive chef at BayCare's St. Joseph's Hospitals. Try this healthy and delicious recipe for oatmeal apple chew cookies. They're gluten free and vegan too!

Ingredients
3 cups cereal, quick dry oatmeal
3 small/individual packets of any recommended sugar substitute
1 tsp baking soda
1 tsp ground cinnamon
1/4 tsp ground ginger
1/4 tsp ground nutmeg
3 medium bananas
1 Golden Delicious apple
1 Red Delicious apple
1/2 cup raisins
1/2 cup Craisins
Directions
Preheat a convection oven to 312F (conventional to 340F)
In the work bowl of a food processor combine the oatmeal, sugar substitute (optional), baking soda and spices.
Turn on and process until ground into a powder (approximately 30 seconds)
Peel and add bananas, puree until uniform and thick, (like cold peanut butter)
Transfer oatmeal mixture into a large work bowl.
Small dice (the size of a pea) the apples and add to mixture.
Add dried fruits and mix until evenly combined.
Use a #40 portion scoop (just under 2 tbsp) to shape the cookies into 30 equal size balls.
Evenly space on a parchment lined cookie sheet and lightly press down.
Bake for 12-13 minutes (conventional 14-18 minutes) until light golden brown (these chews will not spread)
Remove from oven and allow to cool. Enjoy!
Yield: 30 cookies
Portion:7/8 ounce
Fat 0.6 gm
Cholesterol 0 mg
Sodium 43 mg
Fiber 1.5 gm
Calcium 7 mg
Calories 55 cal
Carbs 11.7 gm
Protein 1.5 gm