Graduation from St. Petersburg College School of Nursing a Family Affair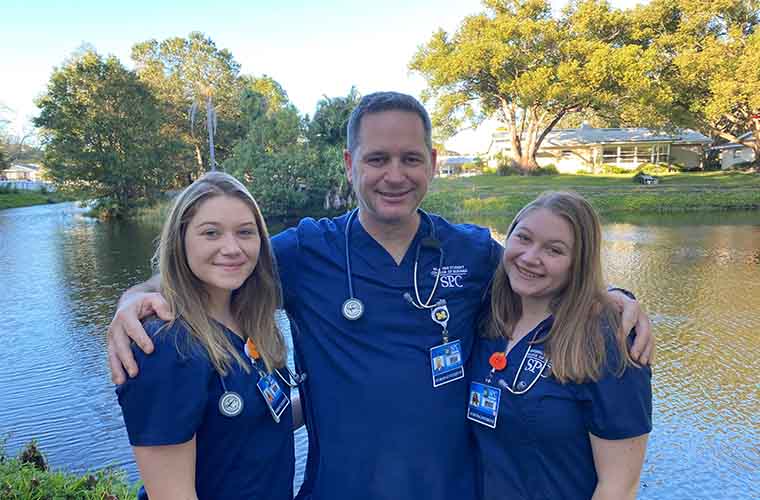 On Dec. 12, Shawn Conrad and his 20-year-old twin daughters Kayla and Karlee will graduate from St. Petersburg College School of Nursing. It will be a big day for the Conrad family. And for the BayCare family.
Shawn, a retired firefighter, has been with BayCare for six years as an emergency services technician, recently transferring from Bardmoor Emergency Center to Mease Countryside Hospital. Kayla and Karlee are nurse helpers at Mease Dunedin; Kayla started in August, Karlee in September.
"I'd wanted to be with BayCare for a while,'' Kayla said. "I finally got the opportunity, and I'm really excited.''
For good measure, Shawn's wife and the twins' stepmom, Talitha Conrad, is a schedule coordinator at Morton Plant and has been with BayCare 12 years, and Talitha's mother, Debra Armstrong, a former RN, is a systems analyst now and has been with BayCare nearly 30 years.
In December, the family's eyes will be on Shawn, Karlee and Kayla. While not the culmination of their dreams, the upcoming graduation is a significant step along the way.
Shawn remembers the girls' first steps. Karlee was the first to walk and the first to color, he said, but is more reserved by nature. Kayla, older by 13 minutes, is a little more assertive. They're 99.94% identical, but Shawn said he has no trouble telling them apart.
From early on, the girls knew they wanted to pursue the same career. In middle school, they thought about becoming veterinarians, but the prospect of putting down animals was too distressing. Then they started watching the TV show "Grey's Anatomy,'' and something clicked.
"We decided to help people instead,'' Karlee said.
The twins went to Osceola Fundamental High School and took a heavy dose of sciences. With dual enrollment at St. Petersburg College their senior year, they were able to graduate with half of their associate degree.
At the same time, Shawn's dreams were beginning to materialize.
"I'd wanted to be a nurse for quite some time, '' he said. "There's a limitation to being an emergency services tech. I thought I could contribute more to society and increase my knowledge by being a nurse.''
On the waiting list at St. Petersburg College, he was accepted to the Morton Plant Mease Earn as You Learn scholarship program, and that became his entrée to nursing school.
There was never a grand plan for the three to graduate from the School of Nursing together. Shawn started school before the girls, but they took summer school classes and caught up.
All three say they aren't competitive and do as much as they can to help each other out. In fact, they study together.
"We bounce ideas off each other and discuss disease processes,'' Karlee said. "We make sure we understand the material. It isn't easy.''
At 47, school has been challenging for Shawn. He continued working full time during his first three semesters, and he still works two days a week as graduation nears.
The twins have been duly impressed.
"He puts it out there that you're never too old to pursue what you want to do,'' Kayla said. "It's amazing.''
Shawn is equally proud of his daughters.
"They've always been very eager and dedicated to their studies,'' he said. "They take pride in it. Whatever they decide to do, they will excel.''
There will be a family celebration on Dec. 12, and future plans abound. All three will take boards in December to get licensed. Kayla has been accepted to the med/surg/tele residency program at Mease Dunedin, and Karlee is waiting to hear about her application. Shawn has applied for the emergency nursing internship program at Mease Countryside. They plan to get their bachelor's degree together, too, as soon as they can.
Ultimately, Kayla and Karlee aspire to be nurse anesthetists. Shawn wants to be an ER nurse. It's a family with big dreams, and BayCare has been instrumental in providing opportunities. Shawn has benefited from four Earn as You Learn Scholarships while in nursing school and received tuition reimbursement from BayCare for his associate degree.
BayCare has a robust scholarship program, helping team members who wish to further their health care careers, particularly in nursing. The awards support all levels of education from associate degrees through doctoral programs. Earn as You Learn is designed to allow team members to work while taking classes for free.
"I've been very blessed,'' Shawn said. "BayCare absolutely has made this possible for me.''
That's what families are for.