BayCare Team Members Among First to Get Moderna COVID-19 Vaccine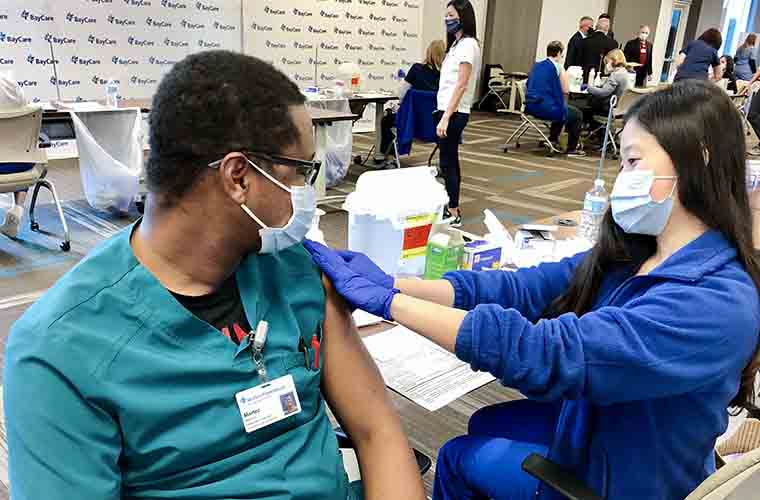 CLEARWATER, Fla. (December 22, 2020)
-- BayCare began vaccinating frontline staff with the Moderna COVID-19 vaccine early this morning. This second vaccine enhances efforts that began
last week
to ensure that the health care system's team members most at-risk for exposure get the protection they need.
"The vaccine is a gift we can give to our team members and providers this holiday week," said Michael Magee, chief pharmacy officer. "In a season of hope, our caregivers are getting another layer of protection against this virus, which is great news for our team, their families and all we serve."
On Monday, BayCare received the Moderna COVID-19 vaccine, which earned Emergency Use Authorization from the U.S. Food and Drug Administration during the weekend. BayCare is leveraging its resources across West Central Florida to create clinics to vaccinate team members as efficiently as possible.
BayCare has five vaccination clinics scheduled this week in Hillsborough, Pinellas and Polk counties. Clinics continue next week at St. Joseph's Hospital in Tampa, Winter Haven Hospital, and the BayCare System Office in Clearwater. Each clinic is expected to vaccinate between 500 and 1,000 team members daily. BayCare employs nearly 30,000 team members who work in 15 hospitals and hundreds of additional locations throughout the Tampa Bay area.
"I've seen team members laugh, cry and even ask to take selfies while getting their vaccines," Magee added. "We're grateful to be able to give our frontline workers some peace of mind in what has been a very challenging year."