Morton Plant North Bay Brings Robotic Surgery Option to Pasco Community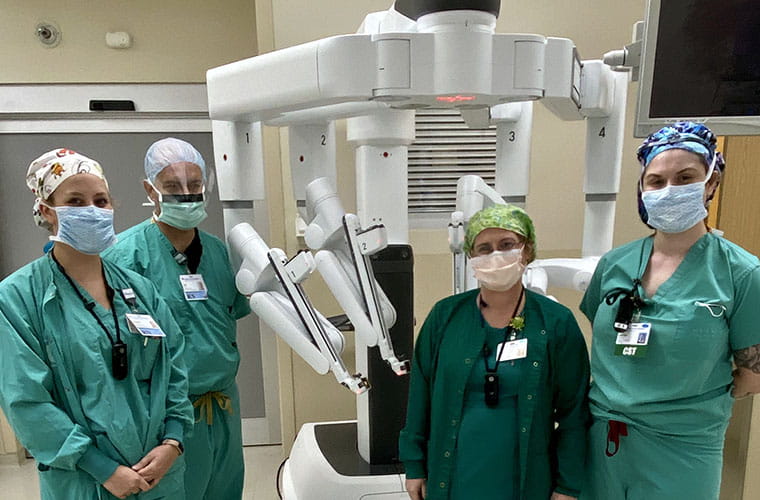 NEW PORT RICHEY, Fla., (Aug. 20, 2020) - Morton Plant North Bay Hospital has expanded its surgical services to the community with the acquisition of the da Vinci XI Surgical System, the latest technology in robotic surgery.
"We are committed to providing the highest quality health care to our patients and community,'' said Brandon May, president of Morton Plant North Bay. "Robotically-assisted surgery, compared to traditional open surgery, is minimally invasive and results show improved outcomes for the patient.''
Benefits of robotic surgery include:
More precise surgery
Less trauma to the body, less pain
Less blood loss, less risk of infection
Shorter hospital stay
Shorter recovery time
Smaller scar
The robotic platform has four interactive arms. The surgeon sits at a console and directs the procedure, manually operating the instruments with his thumb and index finger. When the surgeon moves, the instruments respond precisely to those movements in real time. The instruments work identically to the movement of a human arm, human elbow and human wrist, but with an enhanced range of motion.
The console also contains a screen that shows high-resolution, 3-D images of the surgical site.
"The video graphics are so clear,'' said Sue Armstrong, director of surgical services at Morton Plant North Bay. "The instrumentation is fine-tuned, very precise, giving surgeons ease of access to the surgical site. It's so much better for the patient, allowing for a faster recovery. Who wouldn't want that?''
The system can be used across a spectrum of minimally invasive surgical procedures in the areas of gynecology, oncology, urology, bariatrics and general surgery. For now, Morton Plant North Bay anticipates using it for:
Hernias
Gall bladder disease
Bowel resection
Prostate procedures
Gynecological procedures
Morton Plant North Bay's team of five robotic surgeons are highly experienced and have received extensive training in the robotic surgical system. The team includes:
Wanda I. Torres-Oyola, MD - gynecology
Brett A. Armstrong, MD - general surgery
Louis D. Matherne, IV MD - general surgery
Keith G. Chisholm, MD – general surgery
Richard S. Gordon, MD – general surgery
"With the rapid advancements in health care, it's imperative that we stay abreast of, and invest in, new technology,'' May said. "The Xi will also allow the hospital to add more surgeon depth to critical services, increasing the strength of our already amazing medical staff. Today, with the unwavering support of the Morton Plant Mease Health Care Foundation, we are now able to provide so much more to the community and the patients we serve."
The acquisition of the surgical system was made possible through a grant from the Morton Plant Mease Health Care Foundation.
"Thanks to the philanthropic support of our generous community, we are delighted to help provide this important service to our patients and physicians in the West Pasco and New Port Richey communities,'' said Ernestine Morgan, president/CEO of Morton Plant Mease Health Care Foundation.
BayCare Health System is considered among the region's leaders for all types of minimally invasive surgery, including robotic surgery. For more on robotic surgery at BayCare hospitals, visit https://baycare.org/services/surgery/robotic-surgery.