Fighting COVID-19 in Pasco County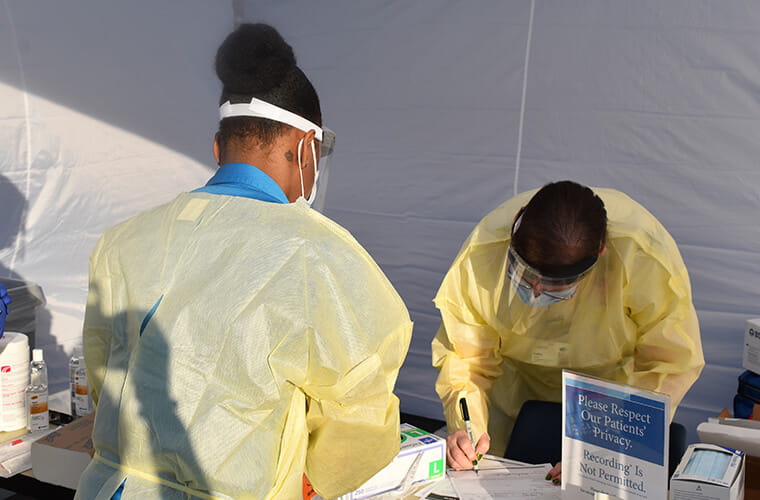 Classes have gone online, but at one high school in Pasco County, cars are still lining up each weekday. Through a unique partnership, Gulf High School in New Port Richey has become an epicenter of this community's fight against the COVID-19 pandemic.
Across West Central Florida, much attention has been given to the urban drive-thru COVID-19 test collection sites in St. Petersburg and Tampa, including a large multi-partner effort at Raymond James Stadium. But in Pasco and Polk counties, two other sites operated by BayCare are helping to spread awareness of the pandemic's reach.
As of Thursday (April 2), test collection sites operated by BayCare Health System in the four-county area have screened more than 10,000 people for symptoms of COVID-19, the disease caused by the novel coronavirus. More than 6,300 have had a specimen collected for testing.
Out of those totals, nearly 1,900 individuals in Pasco County have been screened and 1,200 had specimens collected for testing.
"COVID-19 doesn't recognize geographic boundaries and neither will we as we serve our communities," said Jim Cote, senior vice president for BayCare Ambulatory Services. "We couldn't have gotten a warmer welcome here."
BayCare began operating its Pasco County drive-thru COVID-19 test collection center at a nearby BayCare Urgent Care center on March 18. It didn't take long for Tim Exline, preparedness planner with the Florida Department of Health, to offer an alternative.
He noticed the sun beating down on the asphalt pavement and the sweat dripping down the faces of those trying to help the community. "I was a firefighter in the community for more then 30 years," he said. "I remembered that Gulf High School, only a few blocks from the current site, had a bus area with a large overhang that could shade the workers and the cars."
Within a few days, with the welcome of Gulf High Principal Jeff Morgenstein, the drive-thru site was relocated to the school's bus loop.
The county emergency management team and the New Port Richey Police Department ensured good traffic flow. The Health Department brought its trailer and sent its nurses to work alongside BayCare nurses in the car line. And the nearby Leaning Tower of Pizza frequently delivers complimentary fare for all who are working.
"To be welcomed like this by the community means a lot," said Donna Lynch, director of laboratory services for BayCare, who is on site most days. "We have become one team - working together to screen and test when appropriate, in order to reduce the impact of the pandemic on this community."