BayCare Imaging Makes Service Changes Amid COVID-19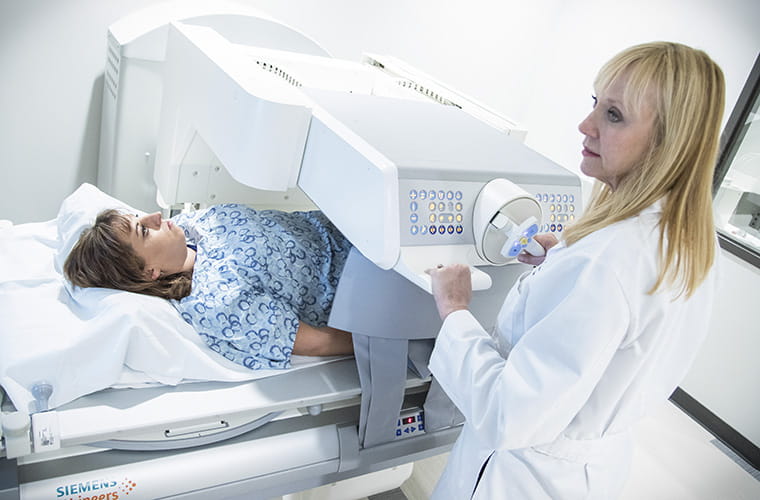 BayCare has made significant changes to operations at its imaging services' offices to ensure it is able to safely serve patients amid the COVID-19 pandemic. The changes will allow urgent outpatient imaging services to remain accessible in Hillsborough, Pinellas and Pasco counties.
To accommodate the changes, three of BayCare's outpatient imaging locations have been temporarily closed, but 10 remain open and offer extended hours. In line with decisions made in other BayCare services, imaging exams that can be safely delayed are being rescheduled, such as screening mammograms. But urgent needs, such as a diagnostic mammogram, are being scheduled.
"Our patients' urgent health care needs don't stop because of a pandemic," said Todd Jones, vice president for ambulatory operations. "We want to be sure we are here for them."
Among the accommodations at the 10 locations across Hillsborough, Pinellas and Pasco counties:
All patients, team members, and providers are screened and have their temperature checked upon arrival.
Waiting rooms have been redesigned to create social distancing of at least 6 feet between patients.
Intervals between appointments have been extended to allow more time for cleaning equipment and rooms in accordance with guidelines from the U.S. Centers for Disease Control and Prevention.
All team members and providers are using face masks.
Also, BayCare is adopting a 7-day-on, 7-day-off staffing model for these locations, creating twin teams where possible. Such a model is helpful during the times of infectious disease concerns so there are replacement team members available to provide care should they be needed.

Imaging locations remaining open are:
Hillsborough County
BayCare Outpatient Imaging (Riverview)
10141 Big Bend Road, Suite 102, Riverview, FL 33578
HOURS: Monday-Friday, 7am-5:30pm
Imaging Services at St. Joseph's Hospital
3001 W. Dr. Martin Luther King Jr. Blvd., Tampa, FL 33607
HOURS: Monday-Friday, 7am-6:30pm
Saturday, 7:30am-3:30pm
BayCare Outpatient Imaging (Van Dyke)
4091 Van Dyke Road, Lutz, FL 33558
HOURS: Monday-Friday, 8am-5pm
BayCare Outpatient Imaging (Westchase)
12780 Race Track Road, Tampa, FL 33626
HOURS: Monday-Friday, 6:30am-6pm
Saturday, 8am-12pm

Pinellas County
BayCare Outpatient Imaging (Bardmoor)
8787 Bryan Dairy Road, Largo, FL 33777
HOURS: Monday-Friday, 7am-5pm
Carlisle Imaging Center/Susan Cheek Needler Breast Center
400 Pinellas St. Suite 101, Clearwater, FL 33756
HOURS: Monday-Friday, 7am-6pm
Mease Outpatient Imaging Center
1840 Mease Drive Suite 103, Safety Harbor, FL 34695
HOURS: Monday-Friday, 7am-7pm
BayCare Outpatient Imaging (Carillon)
900 Carillon Parkway, Saint Petersburg, FL 33716
HOURS: Monday-Friday, 8am-5pm
BayCare Outpatient Imaging (St. Anthony's Suncoast Building)
620 10th St. N. Suite 100, Saint Petersburg, FL 33705
HOURS: Monday-Friday, 7am-5pm
Pasco County
BayCare Outpatient Imaging (Trinity)
2102 Trinity Oaks Blvd., New Port Richey, FL 34655
HOURS: Monday-Friday, 7am-5pm
These three imaging locations are temporarily closed:

BayCare Outpatient Imaging (Hyde Park)
2222 W. Swann Ave., Tampa, FL 33606
BayCare Outpatient Imaging (New Tampa)
17512 Dona Michelle Drive, Tampa, FL 33647
BayCare Outpatient Imaging (Bloomingdale)
2470 Bloomingdale Ave Suite, 115, Valrico, FL 33596