BayCare Continues to Serve Patients with Heart Attack or Stroke Symptoms Amid Coronavirus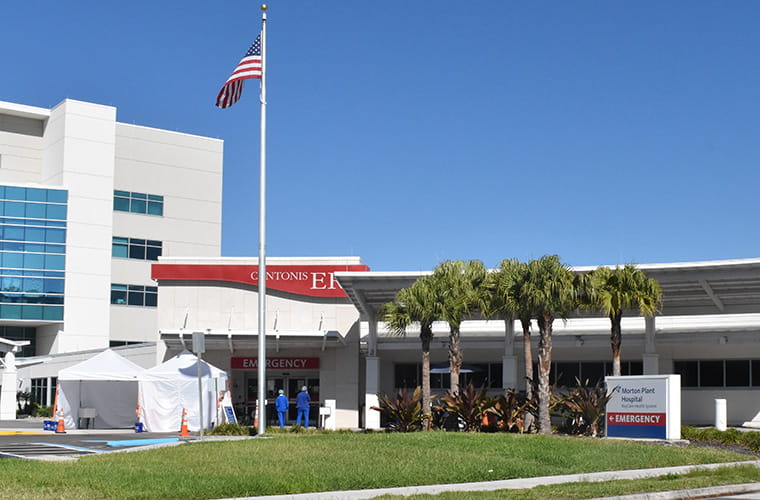 When someone is experiencing a stroke or heart attack, every second counts. Even in the midst of a pandemic, that message does not change. Individuals who are experiencing heart attack or stroke symptoms need to seek medical attention immediately.
Over the past few weeks as the coronavirus pandemic has grown and news reports show lines out the door at ERs in other cities, many people here in the Tampa Bay area appear reluctant to seek treatment in the emergency room.
"We want our community to know that BayCare has taken steps to ensure individuals with emergent health care needs can get treatment without fear of exposure to the novel coronavirus," said Stephen Haire, MD, Medical Director of the Emergency Department at BayCare's Morton Plant Hospital. "Recently, we set up tents outside our emergency department to triage patients who present with symptoms of COVID-19. This enables us to treat those patients but also safeguard other patients and our clinical teams from potential exposure to COVID-19."
The common signs of a heart attack are:
Chest discomfort
Nausea and vomiting
Pain or discomfort in the back or jaw
Shortness of breath
Pain or discomfort in one or both arms, neck or stomach
Breaking out in a cold sweat, light-headedness
The signs that may indicate a stroke are:
Sudden facial drooping
Sudden arm or leg weakness
Sudden speech difficulties
Sudden vision problems
Sudden problems with balance/walking
Individuals experiencing these symptoms need to seek immediate medical attention. Waiting even a few extra minutes while trying to debate the risk of going to a hospital facility could be detrimental to a patient's long-term health.
"We recognize that while COVID-19 is the most pressing medical issue facing our community and our world at the moment, it is not the only important medical condition that someone may be experiencing," said David Ball, DO, BayCare Emergency Department Collaborative Chairman. "People are continuing to have heart attacks and strokes. Our outstanding medical professionals throughout BayCare are still here and prepared to treat these life-threatening and life-changing conditions to meet all our community's health care needs."
(Editor's Note: While the design of each BayCare hospital and emergency department may differ, all facilities are taking extraordinary precautions to keep every patient safe.)