Mease Countryside Hospital Opens New Parking Garage
March 07, 2019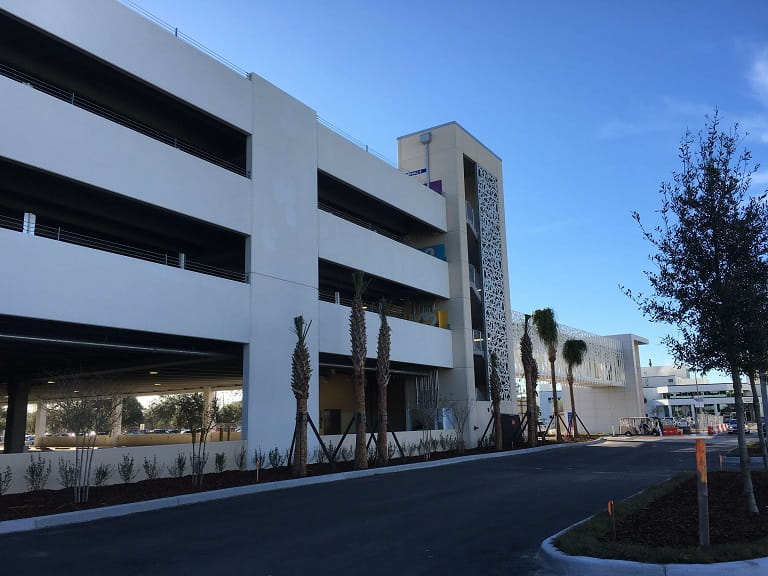 Garage features 952 spaces and an elevated pedestrian walkway
SAFETY HARBOR, Fla. (March 7, 2019)
– With the recent opening of a 952 space parking garage and elevated pedestrian walkway, Mease Countryside Hospital has completed the first phase of its $156 million expansion project that will allow the hospital to better serve the growing community.
"The opening of the garage was an important milestone in our campus transformation," said Matt Novak, president of Mease Countryside Hospital. "The entire project is about improving the comfort and care of our patients and visitors with improved access to the hospital being the initial step."
Each floor of the four-story garage, is designated with a distinct color panel and a photo representing the Florida lifestyle. The public entrance to the parking garage is located off of Mease Drive.
After parking, patients and visitors will enter the pedestrian walkway from the second floor and then take stairs or an elevator down to the ground level, following marked walkways to the hospital entrance.
Parking is free and valet service will continue.
The new hospital pavilion, designed to create continuous platforms of care that support clinical excellence, is expected to be completed in 2021. It will include:
104 Private Inpatient Rooms

70 Medical/Surgical Rooms
34 Critical Care Rooms Combined into One Cohesive Unit

30-Bed Observation Unit Adjacent to the Emergency Department
Entel Education Center will provide Multiple Meeting Rooms

3 Meeting Rooms
1 Conference Room
Tranquil Garden

Gift Shop
Admitting /Registration
Additional renovations expected to be completed by 2022 include:
Inpatient and Outpatient Surgical Services will be Aligned into One Space
New Loading Dock
Expanded Sweet Caroline's Café
New Cafeteria
Surgical Services – including additional OR and new Pre-Op and Recovery areas
Mother/Baby and Neonatal Intensive Care Units
New Inpatient Dialysis Unit
Mease Countryside Hospital also opened a new Infusion Center on the second floor of the Medical Arts Building in August of 2018, and a new Endoscopy Unit, as well as an Expanded Inpatient Pharmacy should be completed in the spring.

"Our investment in this construction project is part of our appreciation of and commitment to our community that has entrusted us with its healthcare for more than 30 years," said Novak.

About Mease Countryside Hospital
Mease Countryside Hospital is a 311-bed facility committed to improving the health of everyone it serves. Mease Countryside has been awarded a total of 12 Top 100 Hospital designations in the areas of stroke, orthopedic, intensive care and overall care by the Truven Health Analytics 100 Top Hospitals: National Benchmarks for Success. Mease Countryside Hospital has also been designated as a "Baby-Friendly" Hospital by the World Health Organization (WHO) and the United Nations Children's Fund (UNICEF) in recognition of its ability to offer breastfeeding mothers the information, skills and support needed to successfully initiate and continue breastfeeding their babies. The hospital's Primary Stroke Center and Spine Care has received the Joint Commission's Gold Seal of Approval. Mease Countryside Hospital is located at 3231 McMullen Booth Road, Safety Harbor, Fla. For more information about Mease Countryside Hospital, go to www.baycare.org/mch.

About BayCare Health System
BayCare is a leading not-for-profit health care system that connects individuals and families to a wide range of services at 15 hospitals and hundreds of other convenient locations throughout the Tampa Bay and central Florida regions. Inpatient and outpatient services include acute care, primary care, imaging, laboratory, behavioral health, home care, and wellness. Our mission is to improve the health of all we serve through community-owned, health care services that set the standard for high-quality, compassionate care. For more information, visit BayCare on the Web at www.BayCare.org.