Bartow Regional Medical Center Launches STEMI Program
July 29, 2019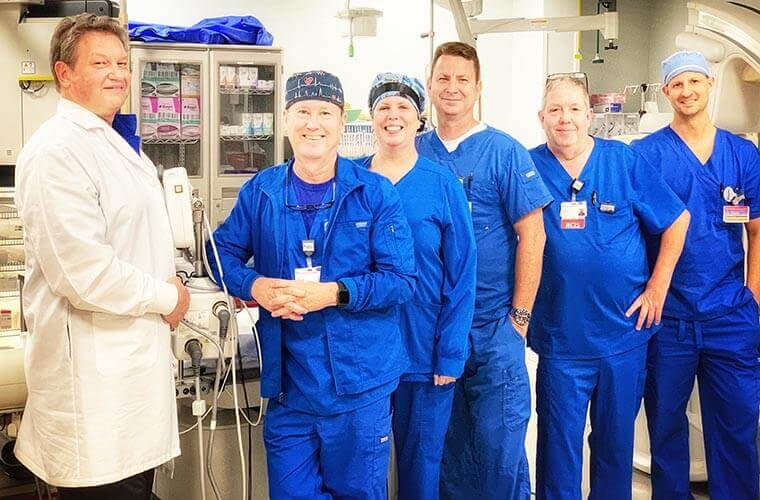 Bartow, Fla., (July 29, 2019) – On July 1, Bartow Regional Medical Center was fully equipped to begin a STEMI program, expanding the hospital's cardiac services to better serve the needs of the community.
An "ST" elevated myocardial infarction, or STEMI, is one of the more dangerous types of heart attacks and occurs when there is prolonged blockage of blood supply to the heart. The optimal treatment method is a percutaneous coronary intervention (PCI) to open the artery within 90 minutes of first receiving care from emergency medical personnel. Time translates into muscle loss, so patients suffering a STEMI are taken to the closest hospital that can treat this type of heart attack.
In 2017, the lab underwent a $1 million renovation and is now accredited as a Level 1 Adult Cardiac lab. With the STEMI program, Bartow Regional Medical Center will have a specially trained team available 24 hours a day, seven days a week, to treat these patients. Each member of the Cath Lab team has spent at least 500 hours doing interventional procedures.
To ensure that around-the-clock physician care would be available, the hospital expanded the number of interventional cardiologists on staff to take STEMI alerts.
The hospital handled its first STEMI case on July 16. The PCI occurred within 38 minutes of arrival. Another major component to offering this advanced care is the partnership with EMS, whose ability to recognize severe heart attacks and identify the closest appropriate location is instrumental in stabilizing such patients. In preparation for the program, EMS also assisted in mock STEMI procedures.
"I'm excited to be able to provide this additional level of service to community," Andy Ballin, cardiology manager said. "The team has trained well over the last few years and have a great rhythm in place with the physicians. Together, we will provide clinical excellence for our STEMI patients."
About Bartow Regional Medical Center
Bartow Regional Medical Center, part of BayCare Health System, is an acute care hospital serving South Lakeland, Bartow, Ft. Meade, Mulberry, rural south Polk County and northern Hardee County. Physicians and health care professionals at Bartow Regional Medical Center provide a variety of services. The hospital is equipped with four surgery suites and two gastroenterology suites. The emergency services department is staffed with board-certified emergency physicians and specially trained nurses, 24 hours a day, seven days a week, to treat all types of emergency situations. For more information, call (863) 533-8111 or visit BayCare.com/BRMC.
About BayCare
BayCare is a leading not-for-profit health care system that connects individuals and families to a wide range of services at 15 hospitals and hundreds of other convenient locations throughout the Tampa Bay and central Florida regions. Inpatient and outpatient services include acute care, primary care, imaging, laboratory, behavioral health, home care, and wellness. Our mission is to improve the health of all we serve through community-owned, health care services that set the standard for high-quality, compassionate care. For more information visit www.baycare.org.
Contact: Nafari Vanaski
(863) 519-1893 Desk
(863) 514-6388 Cell