Winter Haven Women's Hospital Earns International Designation
8/1/2019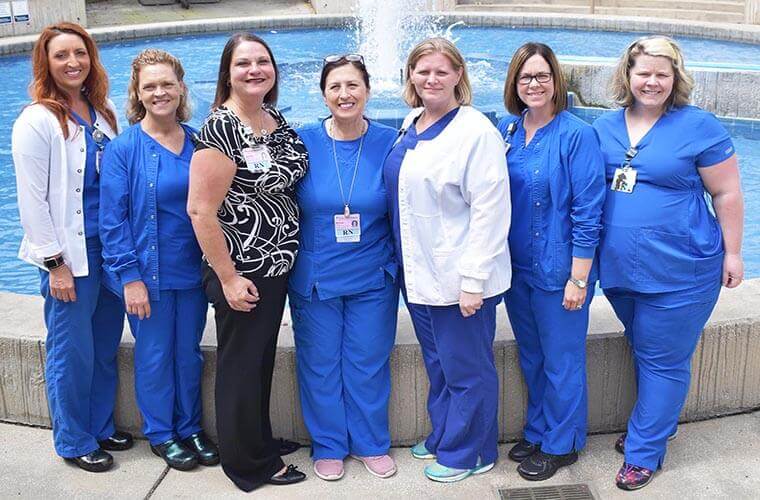 Winter Haven, Fla., (Aug. 1, 2019) – Winter Haven Women's Hospital (WHWH) is the first in Polk County to earn Baby-Friendly designation.
To be designated as a Baby-Friendly hospital by the global Baby-Friendly Hospital Initiative (BFHI) sponsored by the World Health Organization and the United Nations Children's Fund, a facility must offer an optimal level of care and provide mothers with the education, confidence and skills needed to successfully initiate and continue breastfeeding their babies.
The five-step process for designation took two years to complete. It started in October of 2016 when the hospital submitted top leadership's commitment to the initiative and completed an appraisal of its practice of the WHO/UNICEF Ten Steps to Successful Breastfeeding.
These actions were recognized by the Florida Breastfeeding Coalition with WHWH's first "Florida Quest for Quality Maternity Care Award." The Coalition, a partner with the BFHI, distributes additional awards to mark the achievements required to attain BabyFriendly designation:
Two Star Award for creating a plan to achieve the designation with policies following the WHO/UNICEF standards and a training curriculum for staff. WHWH achieved this award in March 2017.
Three Star Award for implementing the plan and providing regular communication to staff on progress and data collection. WHWH achieved this award in Sept. 2017.
Four Star Award for implementation of all ten WHO/UNICEF standards with regular performance evaluations of each step. WHWH achieved this award in Feb. 2018.
Following the fourth award, WHWH applied for formal designation and completed an onsite assessment with BFHI officials in November 2018. The Baby-Friendly designation was awarded in March.
"I am so proud of this team for their work towards this designation," said Jennifer Richards, the Director of Patient Services at the Women's Hospital. "Being Baby-Friendly means we are fully supporting breastfeeding moms with their goals and creating a baby-friendly environment to foster family bonding."
There are more than 20,000 designated Baby-Friendly facilities in the world, but only 575 in the United States. Twenty- six are in Florida. The designation lasts for five years, and re-designation is only given after a rigorous on-site survey is completed and annual submittal of statistics.
For more information about the BFHI and statistics on breastfeeding, contact BabyFriendly USA, the accrediting body and national authority for BFHI in the United States, at info@babyfriendlyusa.org or visit www.babyfriendlyusa.org.
About Winter Haven Women's Hospital
Built in 1987, Winter Haven Women's Hospital (formerly the Regency Center for Women and Infants) is a 61-bed facility accredited by the Joint Commission. Located at 101 Ave. O S.E. in Winter Haven, Florida, the hospital is dedicated to the unique needs of women and newborns by providing on-site obstetric services 24 hours a day/7 days a week, a level II neonatal intensive care unit, education classes, an outpatient surgery center and a Breast and Imaging Center. Winter Haven Hospital and Winter Haven Women's Hospital joined BayCare Health System in 2013. For more information, call (863) 294-7010 or visit WinterHavenWomensHospital.org.
About BayCare
BayCare is a leading not-for-profit health care system that connects individuals and families to a wide range of services at 15 hospitals and hundreds of other convenient locations throughout the Tampa Bay and central Florida regions. Inpatient and outpatient services include acute care, primary care, imaging, laboratory, behavioral health, home care, and wellness. Our mission is to improve the health of all we serve through community-owned, health care services that set the standard for high-quality, compassionate care. For more information visit www.baycare.org.
Contact: Nafari Vanaski
(863) 519-1893 Phone
(863) 514-6388 Cell