South Florida Baptist Hospital/St. Joseph's Hospital's Faith Community Nursing to Present "Holding On, Letting Go"
8/22/2019
Auditions for volunteer roles to be held Sept. 30 and Oct. 2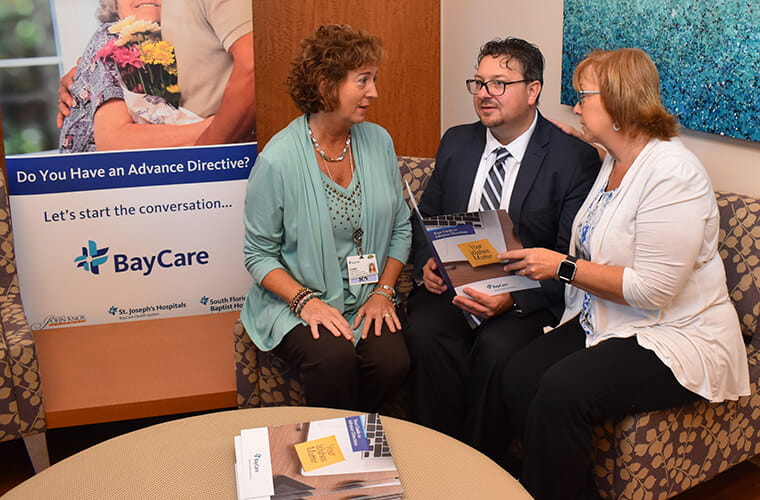 PLANT CITY, Fla., Aug. 22, 2019 – South Florida Baptist Hospital/St. Joseph's Hospital's Faith Community Nursing program will present "Holding On, Letting Go," a play by Bryan Harnetiaux, on Jan. 10 and 11 in Plant City. Auditions for volunteer roles will be held Sept. 30 and Oct. 2, 7 – 10 p.m., at Swindle Medical Arts Building, 1601 West Timberlane, Plant City, FL 33563, Entrance B Conference Room.

The play explores the challenges faced by married couple, Bobby and Lee, as Bobby's health declines. It authentically addresses the emotional topics of hospice and other end of life issues affecting their family, with the goal of educating the audience.

Auditions will consist of cold readings from the script. No prepared monologues are necessary. All are encouraged to audition regardless of experience. They also are looking for volunteers for stage, lighting and sound crews.

Cast of Characters:
Lee (Leoneta): Female, 50s, Bobby's wife, NCAA basketball coach
Bobby: Male, 50s, Lee's husband, has end stage liver failure
May: Female, 70s, Bobby's mother
Virginia: Female, age open but younger than Lee, a hospice registered nurse
Gabe: Male, early 30s, a hospice medical social worker
Roger: Male, age open but older than Bobby, a hospice chaplain
This production of "Holding On, Letting Go" is presented through an agreement with Hospice Foundation of America, a nonprofit, charitable organization providing leadership in the development and application of hospice and its philosophy of care.
Performances will be at Plant City Entertainment, 101 North Thomas St, Plant City, FL 33563 on Jan 10 at 6:30 p.m. and Jan 11 at 3 p.m. An interactive question and answer discussion will follow each performance.
For more information, please
email
Linda Wilkerson, manager, Faith Community Nursing or
email
Lois Green Dunson, director.
About South Florida Baptist Hospital
Since 1953, South Florida Baptist Hospital has served Plant City and surrounding areas as a not-for-profit community hospital. The progressive, 147-bed acute care facility offers a full range of diagnostic, rehabilitative, surgical, therapeutic and women's services, including obstetrics. South Florida Baptist Hospital is part of the BayCare Health System, a family of health care providers consisting of the 15 leading not-for-profit hospitals in the Tampa Bay region.
About BayCare Health System
BayCare is a leading not-for-profit health care system that connects individuals and families to a wide range of services at 15 hospitals and hundreds of other convenient locations throughout the Tampa Bay and central Florida regions. Inpatient and outpatient services include acute care, primary care, imaging, laboratory, behavioral health, home care, and wellness. Our mission is to improve the health of all we serve through community-owned, health care services that set the standard for high-quality, compassionate care.