BayCare Names New Vice President of Government and Community Relations
12/6/2018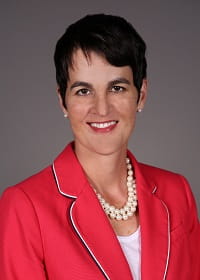 Clearwater, Fla., (December 6, 2018) – BayCare Health System has named Keri Eisenbeis the new vice president of Government and Community Relations. BayCare is a leading not-for-profit organization comprised of 15 hospitals and hundreds of other convenient locations throughout Tampa Bay and central Florida regions.
Eisenbeis, who was the director of Government Relations and Community Outreach at BayCare, will be responsible for leading government relations, community benefit, research, grants, communications as well as coordinating community relations efforts.
"Eisenbeis has played an important role in moving BayCare's mission and strategic goals forward," said Ed Rafalski, senior vice president, chief strategy and marketing officer for BayCare. "Through this new role, she will help enhance government and community relations even further within the system and in the community."
Eisenbeis, who has been working at BayCare for nine years, has demonstrated tremendous leadership in various capacities within the system. She has helped elevate government relations and BayCare's community outreach. She has also been a strong believer in the power of communications - educating and inspiring team members and informing the community about BayCare and its health care priorities.
"I took this role because I am passionate about BayCare and its guiding principles," said Eisenbeis. "BayCare's impact is life-saving, life-changing and inspiring. I hope to continue to share BayCare's story with community members, decision makers and opinion shapers – to ensure that every community member truly understands our commitment to them."
Eisenbeis completed a bachelor's degree in international relations at Emory University and a master of legal studies at Washington University in St. Louis School of Law.
About BayCare Health System
BayCare is a leading not-for-profit health care system that connects individuals and families to a wide range of services at 15 hospitals and hundreds of other convenient locations throughout the Tampa Bay and central Florida regions. Inpatient and outpatient services include acute care, primary care, imaging, laboratory, behavioral health, home care, and wellness. Our mission is to improve the health of all we serve through community-owned, health care services that set the standard for high-quality, compassionate care. For more information, visit www.BayCare.org.