Publix and BayCare Celebrate Milestone for In-Store Telehealth Kiosks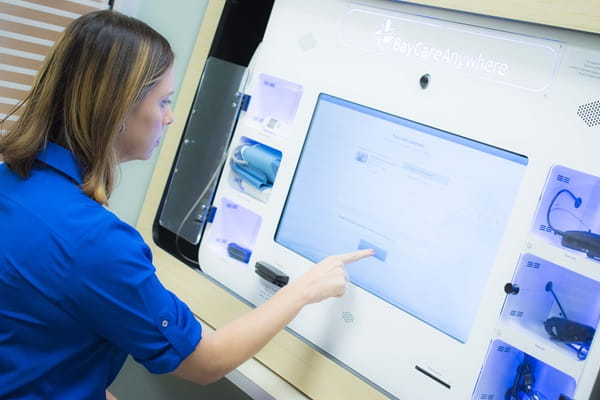 LAKELAND / CLEARWATER, Fla., (Aug. 14, 2018) –Walk-In Care Provided By BayCare, an innovative telehealth technology installed at select Publix Supermarkets across the Tampa Bay area, completed more than 1,000 visits since its official launch.
"We're incredibly excited to celebrate a milestone in this game-changing approach to healthcare," said Brian West, media and community relations manager for Publix. "Our new service has already helped its 1,000th customer, so we're incredibly excited about the future of our partnership with BayCare."
Publix and BayCare Health System teamed up in Dec. 2017 to launch the telehealth kiosk at 26 in-store Publix Pharmacy locations. So far, 12 centers have been opened. Fifteen more locations are expected to open by the end of 2018.
The technology features a private room where shoppers can receive non-urgent medical care from board-certified physicians through teleconferencing and medical diagnostic equipment.
The kiosk, which is interactive and user-friendly, allows patients to easily enter their symptoms through a touchscreen and work with medical tools such as thermometers, dermatoscopes, otoscopes, pulse oximeter, blood pressure cuffs and high definition cameras to help doctors make an accurate diagnosis.
For added convenience, if the diagnosis results in getting a prescription, the Publix pharmacy can quickly prepare the prescription to get the patients on their way to recovery. Publix Pharmacy support staff is available to assist patients with the kiosk, if needed.
"We're thrilled to learn that shoppers are connecting with doctors through our innovative telehealth technology inside Publix Supermarkets," Glenn Waters, executive vice president and chief operating officer at BayCare Health System. "Our collaboration has allowed us to bring convenient access to high-quality care where and when people need it."
Walk-In Care Provided by BayCare is a component of a three-part collaboration between Publix and BayCare to help improve the health and wellness of the residents of the Tampa Bay area. The organizations recently opened five in-hospital Publix Pharmacies at BayCare hospitals in Hillsborough, Pinellas and Polk counties to provide patients with bedside prescription delivery during hospital discharge, access to specialty medications and refills at any Publix Pharmacy location.
Publix stores in Pinellas, Pasco, Hillsborough and Polk counties also feature BayCare HealthHub self-service screening stations to provide shoppers with free health information, including blood pressure, pulse, weight and body mass index.
Walk-In Care is currently available at these locations:
Publix Shoppes of Lithia located at 3461 Lithia Pinecrest Road, Valrico, FL

Publix Supermarket at City Plaza located at 16041 Tampa Palms Blvd. W., Tampa, FL

Publix Colonial Bardmoor Promenade located at 10801 Starkey Rd. Bldg. 200, Seminole, FL

Publix Riviere Plaza located at 35439 US 19 N., Palm Harbor, FL

Publix Northgate Square located at 3939 Van Dyke Rd., Lutz, FL

Publix Lake Miriam Square Shopping Center located at 4730 South Florida Ave., Lakeland, FL

Publix Apex located at 16560 N. Nebraska Ave., Lutz, FL

Publix 4th Street Station located at 4th St. N., St. Petersburg, FL

Publix Haines City Mall located at 617 US Highway 17-92 W., Haines City, FL

Publix Shoppes Of Citrus Park located at 7835 Gunn Highway, Tampa, FL

Publix Labelle Plaza located at 1555 Highland Ave. S., Clearwater, FL

Publix At Northgate located at 1395 6th St. NW, Winter Haven, FL
About BayCare Health System
BayCare is a leading not-for-profit health care system that connects individuals and families to a wide range of services at 15 hospitals and hundreds of other convenient locations throughout the Tampa Bay and central Florida regions. Inpatient and outpatient services include acute care, primary care, imaging, laboratory, behavioral health, home care, and wellness. Our mission is to improve the health of all we serve through community-owned, health care services that set the standard for high-quality, compassionate care. For more information, visit www.BayCare.org.
About Publix
Publix is privately owned and operated by its more than 195,000 employees, with 2017 sales of $34 billion. Currently Publix has 1,189 stores in Florida, Georgia, Alabama, Tennessee, South Carolina, North Carolina and Virginia. The company has been named one of Fortune's 100 Best Companies to Work For in America for 21 consecutive years. In addition, Publix's dedication to superior quality and customer service is recognized among the top in the grocery business. For more information, visit the company's website, corporate.publix.com.