Winter Haven Hospital Unveils TrueBeam Radiation Treatment System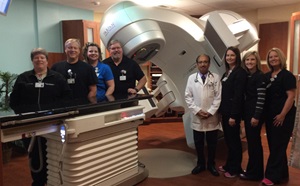 Winter Haven, Fla., (April 26, 2016) – Winter Haven Hospital's Cassidy Cancer Center is delivering leading edge treatment for cancer patients with a new Varian TrueBeamTM radiation treatment system. The TrueBeam linear accelerator improves the speed, power and precision of radiation therapy. 
"I am delighted for our patients and our radiation therapy team," said Frank Schlagel, manager of radiation oncology at Winter Haven Hospital. "It is satisfying to deliver patient care with the finest treatment system available."
Streamlined imaging and patient positioning tools enable increased flexibility to treat cancer throughout the body. Quick treatments, reduced x-ray exposure and high, accurate dose rates are benefits of the TrueBeam's 4D imaging system. Simple treatments that would typically take 10 minutes can be completed in less than two minutes. Complex treatment that typically takes 40 minutes to an hour can be completed in just 5 to 20 minutes.
"Faster treatment times can reduce the chance of patient motion during treatment, which improves accuracy and patient comfort," said Inder Bhutiani, MD, medical director of radiation oncology at the Winter Haven Hospital Cassidy Cancer Center. "The TrueBeam system also allows us to accurately treat more complex cancers."
With the advanced technology available with the new TrueBeam system, the Cassidy Cancer Center will soon be able to provide stereotactic radiation therapy, which uses focused pencil beam radiation therapy to treat brain tumors and other small tumors in the body with pinpoint accuracy.
In addition to the new TrueBeam treatment delivery equipment, Cassidy Cancer Center offers a unique collaboration of comprehensive high quality cancer care and the latest cancer treatments. The radiation oncology team is made up of specialized radiation oncologists, nurses, therapists, dosimetrists and medical physicists who have been trained and educated on the latest advancements in radiation treatments for cancer patients. They work together to develop a personalized radiation treatment plan that will best meet the unique needs of each individual patient – and thereby ensure the highest quality outcomes possible. 
"Investing $3.5 million in the TrueBeam Treatment System is an example of our commitment to Winter Haven and surrounding communities," said Frank. "Anyone's life can be interrupted by cancer. With the new TrueBeam, we hope to lessen the interruption."
Facility upgrades to accommodate the TrueBeam system and installation of the equipment were completed this month, with a total cost of $3.5 million. Patients requiring radiation therapy have started receiving treatments with the new TrueBeam equipment.
About Winter Haven Hospital
Established in 1926, Winter Haven Hospital is a 529-bed facility accredited by the Joint Commission. On Aug. 30, 2013, Winter Haven Hospital joined the Tampa Bay area-based BayCare Health System. More than 300 board-certified physicians comprise the medical staff, covering specialties such as stroke, open heart, obstetrics and gynecology, and emergency services. In addition, the hospital is recognized as a Magnet Nursing Center of Excellence, a prestigious designation held by less than seven percent of hospitals nationwide. Winter Haven Hospital has more than 2,500 employees, making it east Polk County's largest private employer, and has been recognized by Polk Works Workforce 2020 as one of the county's best places to work. Winter Haven Hospital is located at 200 Avenue F NE, Winter Haven, FL 33881. For more information visit WinterHavenHospital.org
About BayCare
BayCare is a leading not-for-profit health care system that connects individuals and families to a wide range of services at 14 hospitals and hundreds of other convenient locations throughout the Tampa Bay and central Florida regions. Inpatient and outpatient services include acute care, primary care, imaging, laboratory, behavioral health, home care, and wellness. Our mission is to improve the health of all we serve through community-owned, health care services that set the standard for high-quality, compassionate care. For more information visit www.baycare.org
###