WHH MRI Suite is Now Open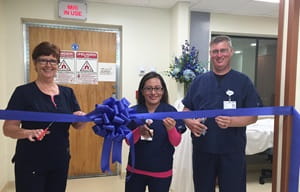 Winter Haven, Fla., (April 15, 2016) – Winter Haven Hospital's newly renovated MRI suite is now open. The new MRI (magnetic resonance imaging) device has many advantages, including more procedures, improved image detail, increased accuracy, a table weight limit of 550 pounds and a larger opening to help reduce claustrophobia.
"The updated device allows for faster scans and improved image quality," said Dr. Darren Chapman, diagnostic radiologist at Radiology & Imaging Specialists. "We're performing cutting-edge imaging services at Winter Haven Hospital."
Additional procedures now available with the new MRI include breast MRI and cardiac MRI.
Breast MRIs compliment the many breast cancer diagnostic capabilities currently available at the Winter Haven Women's Hospital Breast & Imaging Center, including 3D mammography, stereotactic breast biopsy, and breast ultrasound.
Cardiac MRIs compliment the services of Winter Haven Hospital's Bostick Heart Center as another tool to evaluate the structure and function of the heart without surgery, as well as assisting with diagnosing heart conditions and mapping out a patient care plan.
"We are so pleased to have this advanced technology in our hospital," said Becky Comeau, manager of imaging services at Winter Haven Hospital. "The new MRI suite will provide the care our patients deserve."
In addition to the updated magnet and new services now available, the MRI suite features a boot coil and a hand coil to keep hands or feet still during an MRI.
Construction of the $1.6 million MRI suite began in January 2016 and was completed within three months.
"During construction, a mobile MRI was utilized to ensure continuity of care for patients," said Becky. "We appreciate the quick construction timeline so our patients can benefit from this advanced technology."
Appointments are now being accepted for outpatient MRI scans at the new MRI suite. A prescription from your doctor is required. Call (863) 297-1885 to schedule an appointment.
About Winter Haven Hospital
Established in 1926, Winter Haven Hospital is a 529-bed facility accredited by the Joint Commission. On Aug. 30, 2013, Winter Haven Hospital joined the Tampa Bay area-based BayCare Health System. More than 300 board-certified physicians comprise the medical staff, covering specialties such as stroke, open heart, obstetrics and gynecology, and emergency services. In addition, the hospital is recognized as a Magnet Nursing Center of Excellence, a prestigious designation held by less than seven percent of hospitals nationwide. Winter Haven Hospital has more than 2,500 employees, making it east Polk County's largest private employer, and has been recognized by Polk Works Workforce 2020 as one of the county's best places to work. Winter Haven Hospital is located at 200 Avenue F NE, Winter Haven, FL 33881. For more information visit WinterHavenHospital.org
About BayCare
BayCare is a leading not-for-profit health care system that connects individuals and families to a wide range of services at 14 hospitals and hundreds of other convenient locations throughout the Tampa Bay and central Florida regions. Inpatient and outpatient services include acute care, primary care, imaging, laboratory, behavioral health, home care, and wellness. Our mission is to improve the health of all we serve through community-owned, health care services that set the standard for high-quality, compassionate care. For more information visit www.baycare.org
­
###