Winter Haven Hospital Honors Nurse of the Year Award Recipients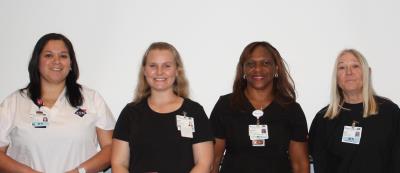 WINTER HAVEN, Fla. (May 6, 2015) – In celebration of National Nurses Week, Winter Haven Hospital honored 24 nurses nominated for the Nurse of the Year awards at an Annual Nursing Recognition Ceremony.
The 2015 Nurse of the Year award recipients are Beth Burgess, RN; Judith Hain, RN; Mayra Keaton, BSN, CEN; and Jennifer Parkes, RN.
"The Nurse of the Year awards are peer-nominated submissions based on the BayCare values of trust, respect, dignity, responsibility and excellence," said Sally Raiden, manager, research and professional practice. "The Winter Haven Hospital Professional Nursing Practice Council, comprised of staff nurse representatives, reviewed unnamed nominations and voted to determine the top four Nurses of the Year who best live the BayCare values."
Beth Burgess, RN is an Infusion Center nurse. Beth began working at Winter Haven Hospital as a tech in 2012. Her nursing career began in 2013 after graduating from Polk State College. Her interest in nursing was sparked when she served as her mother's Lamaze Coach. Beth has a positive attitude and always goes the extra mile for her patients and their families. She keeps the patient informed about what is going to happen next in their treatment. Between singing to her patients and wearing bunny ears on Good Friday, Beth tries to bring joy to those she serves. Beth volunteers her time to give back to the community with support groups, cancer events and fund raising events.
Judith Hain, RN is an oncology nurse. Judith began her nursing career over 35 years ago after graduating from Polk Community College. She has been an oncology nurse at Winter Haven Hospital for the last 10 years. Judith is flexible and willing to help others. She mentors and trains many of the new nurses to her unit. Judith is a compassionate care giver who helps the oncology patients and their families cope and be comfortable through this trying time in their life. She has empathy for the pain and suffering of her patients and their families. Judith has always been a role model to the new and experienced nurses. She demonstrates a comprehensive knowledge of oncology nursing.
Mayra Keaton, BSN, CEN is an emergency department nurse. Mayra began working at Winter Haven Hospital as a tech in the emergency department in 2009. She began her nursing career in 2009 after graduating from Polk State College. Mayra was inspired to become a nurse because she has always enjoyed helping others. She has always loved the healthcare field and
when she was a child she dreamed of setting up a program to help the indigent. Mayra has an outstanding work ethic. She gives her best to each patient, and she is positive and upbeat. Mayra is dedicated, hardworking, a team player, and conducts herself as a professional. She always puts the needs of her patients first. Mayra makes sure she demonstrates patience and compassion with each patient.
Jennifer Parkes, RN is a Medical Surgical Unit (MSU) nurse. Jennifer began her career as a nurse in 2008 after graduating from Polk State College. She enjoys the teamwork of nursing, taking care of patients and talking to her patients. Jennifer is described as a team player, a leader, and one who is always willing to help others. Jennifer is an excellent nurse and she is very knowledgeable. She is an excellent charge nurse and makes others feel welcome. Jennifer is an inspiration with her boundless energy and enthusiasm for her work. She displays kindness toward her patients; her caring touch puts the patients at ease. Jennifer demonstrates excellence in the areas of dignity, responsibility, and community.
"We are fortunate to have caring, skilled, and dedicated nurses to serve our patients and families," said Carol Koeppel-Olsen, Winter Haven Hospital's vice president, patient care services. "Congratulations to our Nurse of the Year recipients, and all of the nurses that were nominated by their peers."
About Winter Haven Hospital
Established in 1926, Winter Haven Hospital is a 529-bed facility accredited by the Joint Commission. On Aug. 30, 2013, Winter Haven Hospital joined the Tampa Bay area-based BayCare Health System. More than 300 board-certified physicians comprise the medical staff, covering specialties such as stroke, open heart, obstetrics and gynecology, and emergency services. In addition, the hospital is recognized as a Magnet Nursing Center of Excellence, a prestigious designation held by less than seven percent of hospitals nationwide. Winter Haven Hospital has more than 2,500 employees, making it east Polk County's largest private employer, and has been recognized by Polk Works Workforce 2020 as one of the county's best places to work. Winter Haven Hospital is located at 200 Avenue F NE, Winter Haven, FL 33881 and serves as the major medical center for east Polk County and the U.S. Highway 27/Ridge Corridor. For more information, call (863) 293-1121 or visit WinterHavenHospital.org.
About BayCare Health System
BayCare is a leading not-for-profit health care system that connects individuals and families to a wide range of services at 13 hospitals and hundreds of other convenient locations throughout the Tampa Bay and central Florida regions. Inpatient and outpatient services include acute care, primary care, imaging, laboratory, behavioral health, home care, and wellness. Our mission is to improve the health of all we serve through community-owned, health care services that set the standard for high-quality, compassionate care.
###