Morton Plant Mease Welcomes USF College of Nursing to Give Teddy Bears to Young Patients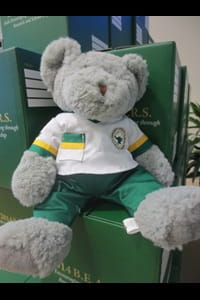 CLEARWATER, Fla., (February 9, 2015)
- Morton Plant Mease welcomes back the University of South Florida College of Nursing to offer a sweet Valentine's surprise to young patients and their families.
Gray teddy bears wearing USF Nursing uniforms will be delivered by students, faculty, staff, and alumni to pediatric patients and newborns as part of the college's Bulls Encouraging and Assisting through Research and Scholarships (B.E.A.R.S.) program. This is the second year that B.E.A.R.S. has delivered to children at Morton Plant Mease.
Deliveries will be made at the following times and locations:
Mease Countryside Hospital – Wednesday, Feb.11, 10:30 a.m. to Noon
Morton Plant Hospital – Wednesday, Feb. 11, 1:30 to 3 p.m.
The teddy bears, donated by college supporter, Christopher J. Davis, president of LAD Enterprises, Inc., are charitable gifts that contribute to the USF Unstoppable Campaign, a comprehensive fundraising effort by USF to celebrate the energy, vision and future of one of the country's most exciting and engaged universities.
About Morton Plant Mease
Nationally recognized for health care excellence, Morton Plant Mease Health Care is dedicated to providing community owned health care services that set the standard for high-quality, compassionate care. Morton Plant Mease Health Care is comprised of the following hospitals –
Morton Plant, Clearwater; Mease Dunedin, Dunedin; Mease Countryside, Safety Harbor and Morton Plant North Bay, New Port Richey.
About BayCare Health System
BayCare Health System is a leading community-based health system in the Tampa Bay area. Composed of a network of 11 not-for-profit hospitals, outpatient facilities and services such as imaging, lab, behavioral health and home health care, BayCare provides expert medical care throughout a patient's lifetime. With more than 200 access points conveniently located throughout Tampa Bay, BayCare connects patients to a complete range of preventive, diagnostic and treatment services for any health care need.
BayCare's family of hospitals are: Mease Countryside, Mease Dunedin, Morton Plant, Morton Plant North Bay, St. Anthony's, St. Joseph's, St. Joseph's Children's, St. Joseph's Hospital-North, St. Joseph's Women's, South Florida Baptist, and Winter Haven. For more information, visit BayCare on the Web at www.BayCare.org.
###