March of Dimes Recognition For Reducing Early Elective Deliveries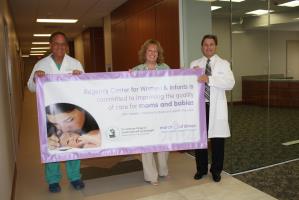 Winter Haven, Fla. (August 8, 2014) –Winter Haven Hospital was honored by the American College of Obstetricians and Gynecologists (ACOG) District XII (Florida) and the March of Dimes for reducing the number of early elective inductions and cesarean deliveries with a special recognition banner. The hospital recently met the criteria to qualify for this distinction, which includes achieving a rate for elective deliveries before 39 completed weeks of pregnancy of 5 percent or lower and that they have policies in place to prevent such deliveries.
"We're proud of our expert team of physicians and nurses who tackled this issue in our community and established policies to avoid scheduling deliveries before 39 weeks of pregnancy, except when medically necessary," said Susie Hart, director of Winter Haven Hospital's Regency Center for Women & Infants.
"We are delighted to present this commemorative banner to Winter Haven Hospital for adhering to standards that directly benefit the health of babies," said Dr. Karen Harris, Chair of the Program Services Committee for the March of Dimes Florida Chapter. "The last few weeks of pregnancy are extremely important for the baby's brain and lung development, among other organs, so we want to commend this momentous achievement."
"Studies have shown that deliveries that are scheduled for convenience or other non-medical reasons may increase harm to infants, increase health care costs, and worsen medical outcomes," said Dr. Robert Yelverton, Chair of ACOG District XII. "We are extremely pleased with Winter Haven Hospital participation."
March of Dimes and ACOG District XII (Florida) have also worked with the Florida Hospital Association, the Florida Perinatal Quality Collaborative and other partners to provide resources and support to hospitals across the state. This joint effort enabled many hospitals to make great progress in reducing their rates of early elective delivery. For a list of hospitals that qualified for the special recognition banner and of those that have pledged to eliminate non-medically indicated deliveries before 39 weeks, visit www.marchofdimes.com/florida or www.acog12.org
Reducing early elective deliveries and improving the health of moms and babies is just one of the key focus areas of the March of Dimes and their "Healthy Babies Are Worth the Wait" campaign. In an average week in Florida 549 babies are born preterm and 29 die before their first birthday, many times as a result of their early births. Early elective deliveries can cause lifelong health challenges for the baby, including breathing difficulty, cerebral palsy, and learning disabilities. Even babies born just a few weeks early have higher rates of hospitalization and illness than full-term infants.
For more than 75 years, moms and babies have benefited from March of Dimes research, education, vaccines, and breakthroughs. Find out how you can help raise funds to prevent premature birth and birth defects by walking in March for Babies at marchforbabies.org. Find us on Facebook and follow us on Twitter.
Established in 1926, Winter Haven Hospital, Inc. is a 527-bed facility accredited by the Joint Commission and includes Winter Haven Hospital and the Regency Center for Women & Infants. On Aug. 30, 2013, Winter Haven Hospital joined the Tampa Bay area-based BayCare Health System to become the system's 11th not-for-profit hospital. More than 300 board-certified physicians comprise the medical staff, covering specialties such as stroke, open heart, obstetrics and gynecology, and emergency services. In addition, the hospital is recognized as a Magnet Nursing Center of Excellence, a prestigious designation held by less than seven percent of hospitals nationwide. Winter Haven Hospital has more than 2,500 employees, making it east Polk County's largest private employer, and has been recognized by Polk Works Workforce 2020 as one of the county's best places to work. Winter Haven Hospital is located at 200 Avenue F NE, Winter Haven, FL 33881 and serves as the major medical center for east Polk County and the U.S. Highway 27/Ridge Corridor. For more information, please call (863) 293-1121 or visit www.winterhavenhospital.org.
###