Why Choose BayCare Imaging?
Not all imaging centers are created equal. It's important that you choose an imaging center that will get you accurate results the first time you go. This will save you time, money, and unnecessary exposure to radiation. Here are a few reasons why you should choose a BayCare imaging center.
BayCare believes in the importance of using the most up-to-date, current technology. While some imaging centers may skip upgrades and use equipment that is past its prime, BayCare continuously upgrades its equipment to ensure we are offering the highest standard of care to our patients.


Your exam is only as good as the radiologist who is reading it, and all our radiologists are board-certified. Many are also fellowship-trained in specialty areas such as breast, musculoskeletal, neurology and vascular interventions.


While many imaging centers have radiologists off-site, our board-certified radiologists are always on-site. This gives our technologists who are performing your exam direct access to the radiologists for consultation. This ensures we provide the best images possible for the most accurate diagnosis.


BayCare's imaging technologists are not only compassionate and caring; they are accredited in their field and participate in ongoing education, ensuring they are up-to-date in their specialty area.
Awards & Recognition
American College of Radiology (ACR)
When you see the gold seals of accreditation prominently displayed in our imaging facility, you can be sure you are in a facility that meets high standards for imaging quality and safety. Look for the ACR Gold Seals of Accreditation. To achieve the ACR Gold Standard of Accreditation, our facilities' personnel qualifications, equipment requirements, quality assurance and quality control procedures have gone through a rigorous review process and have met specific qualifications.
It's important for patients to know that every aspect of the ACR accreditation process is overseen by board-certified, expert radiologists and medical physicists in advanced diagnostic imaging. When you see the ACR gold seal, you can rest assured that your prescribed imaging test will be done at a facility that has met the highest level of imaging quality and radiation safety. The American College of Radiology (ACR), the largest and oldest imaging accrediting body in the U.S. and a professional organization of 34,000 physicians.
Breast Imaging Center of Excellence by the American College of Radiology (ACR)

Imaging centers can be awarded with the Breast Imaging Center of Excellence by the American College of Radiology (ACR) for mammography, breast ultrasound, ultrasound-guided biopsy and stereotactic biopsy. This designation is awarded to breast imaging centers that achieve excellence by seeking and earning accreditation in all of the ACR's voluntary breast-imaging accreditation programs and modules, in addition to the mandatory Mammography Accreditation Program.
Avatar International Awards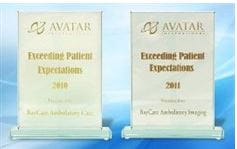 BayCare has been recognized for the prestigious, "Exceeding Patient Expectations Award" by Avatar International. Avatar International is an industry leader in health care quality improvement services. By utilizing measurement tools such as patient satisfaction surveys, Avatar provides action-oriented solutions to assist in the improvement of the organization. To win this esteemed national award, BayCare facilities went above and beyond normal expectations of patients, and consistently provided high standards of patient care.
2022 Press Ganey Human Experience Awards

Each year, Press Ganey recognizes a handful of standout organizations for putting the Human Experience at the heart of healthcare and setting the bar high in patient experience, employee experience, safety, and quality—the building blocks of exceptional care.
This year, BayCare Outpatient Imaging Carillon received the 2022 Guardian of Excellence Award® This award honors organizations that have reached the 95th percentile for patient experience, engagement or clinical quality performance. Guardian of Excellence Awards are awarded annually to organizations that sustain performance in the top 5% for each reporting period for the award year.
BayCare Outpatient Imaging Center Hampton Lakes received the 2022 Pinnacle of Excellence Award® for sustained excellence over three consecutive years.
Overall, BayCare received seven
Press Ganey awards
.