Cardiac Rehabilitation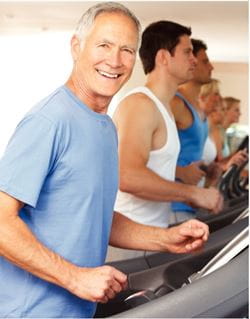 If you experienced a heart attack or needed a heart procedure, then cardiac rehabilitation is a necessary part of your recovery. The goals of cardiac rehab are to strengthen your heart muscle and get you back to doing the things you love.
Cardiac Rehabilitation in Tampa, FL
Our cardiac rehabilitation program is nationally accredited by the American Academy of Cardiovascular and Pulmonary Rehabilitation. Whether you are recovering from a heart attack, heart surgery or some other heart-related issue, we are here to help you learn how to prevent future problems and enjoy a full life.
Our expert staff includes:
Registered nurses
Respiratory therapists
Exercise physiologists
Dietitians Pharmacists and mental health therapists to provide further education and counseling
Cardiac Rehab at St. Joseph's: Programs We Offer
We designed our three-phase cardiac rehab program to educate you and your family on how to recover appropriately and safely, in order to promote your long-term health. Our cardiac rehab programs include:
Pulmonary rehab program, designed to help ease many types of pulmonary conditions and give you tips for achieving an enhanced quality of life.
Heart failure rehab program, funded by a grant from the Philanthropic Women of St. Joseph's Hospital, a medically supervised exercise and educational program designed to improve the lives of patients who have been diagnosed with heart failure.
Learn more about cardiac rehab in our patient-friendly brochures:
Heart Health at St. Joseph's
We are committed to helping you recover from heart conditions and to prevent problems from developing. Find out more about:
Contact Us
To find out more information on any of our programs, call (813) 870-4844. Get directions to our facility.