David F. Echevarria, M.D.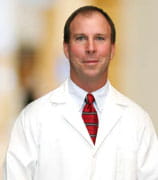 Dr. David F. Echevarria was born and raised in Tampa, Florida, and attended Tulane University where he graduated with a degree in mechanical engineering. He received his medical degree from the University of Miami School of Medicine and after graduating medical school, returned to Tampa to complete a five-year surgical training program at Tampa General Hospital, The Veterans Administration and H. Lee Moffitt Cancer Center.
Dr. Echevarria specializes in advanced laparoscopic surgery, bariatric surgery, general surgery and surgical oncology. He has been in surgical practice for over 17 years, working alongside his father for ten of them. Dr. Echevarria has extensive experience with bariatric surgery for morbid obesity and is a member of the American College of Bariatric Surgeons as well as the American College of General Surgeons. Dr. Echevarria performs gastric bypass and sleeve gastrectomy procedures. He enjoys performing bariatric surgery because the surgeries are an effective and life-changing tool for his patients. He states, "Watching a post-op patient transform emotionally and physically has been one of the most rewarding aspects of my practice."
For more information about St. Joseph's Hospital's bariatric program, please call (813) 870-4986 or take a free online information session.