St. Elizabeth Motherhouse
The Franciscan Sisters of Allegany Motherhouse is located in Allegany, New York. It was named for St. Elizabeth of Hungary. The original building was established in 1859, and the current one was completed in 1959. Today, it houses the Congregation's general offices, leadership, sisters who need more care, and sisters who minister in the area.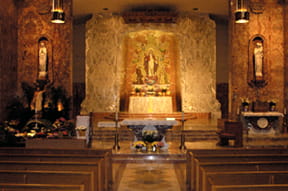 New Chapel at Motherhouse where the Sisters attend daily Mass and regular prayer services.
For more information, please call the Chaplain's Office at (813) 870-4258.