Robotic Surgery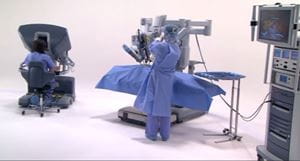 The St. Anthony's Hospital Center for Robotic Surgery offers the most advanced surgical procedures available. Our experienced surgical team has performed more than 1,200 minimally invasive robotic-assisted surgeries.
The outcome is an improved surgical experience for you, resulting in less pain, quicker recovery and shorter hospital stay.
What is Robotic Surgery?
During a robotic-assisted surgery, your surgeon performs the surgery using a robotic surgery system. The result is an incredibly precise surgery. Your surgeon makes a few small incisions instead of one large one. In some cases, we can perform the surgery with only one incision. Learn more about Single-Site™ robotic surgery.
In addition, the ergonomic design of the robotic system allows the surgeon more precise access during surgery. To learn more about robotic surgery, call (727) 253-4215.
Firefly™ Technology
At St. Anthony's, our surgeons use Firefly™ technology for robotic surgeries. Firefly uses a special dye that highlights the difference between cancerous and healthy tissues. It is especially effective during surgery for kidney, colon and uterine cancer. Learn more about Firefly technology.
Robotic Surgeries at St. Anthony's
We perform many procedures robotically, including:
Colectomy (removal of all or part of the colon)
Lower anterior resection (removal of part of the rectum)
Hernia repair
Nissen fundoplication (surgery to treat gastroesophageal reflux disease, or GERD)
Cholecystectomy (gallbladder removal)
Hysterectomy
Tubes and ovary removal
Partial and full kidney removal
Partial and full prostate removal
Bladder repair (for women)
The robotic team of doctors and staff are truly committed to the mission of St. Anthony's Hospital and providing the best possible patient experience.
Robotic Surgery FAQs
St. Anthony's is committed to patient education. View a list of frequently asked questions about robotic surgery.