AlterG Anti-Gravity Treadmill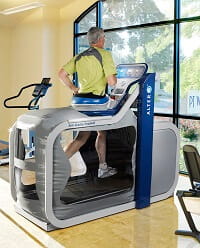 Morton Plant is the first hospital in Florida to offer the AlterG Anti-Gravity Treadmill® in its sports rehabilitation program. The anti-gravity treadmill's unique differential air pressure technology promotes a full range of motion while minimizing impact and stress on an injured athlete. Currently, the anti-gravity treadmill is available at Barrett Outpatient Rehabilitation in Ptak Neuroscience and Orthopaedic Pavilion at Morton Plant Hospital in Clearwater and Rehabilitation Services at BayCare Wellness Center (Palm Harbor).
What is the AlterG Anti-Gravity Treadmill?
The anti-gravity treadmill is a specialized piece of equipment that supports a varied amount of weight of the user. The treadmill can support up to 80 percent of an runner's body weight, thanks to patented NASA technology, which supports the runner with a pressure-controlled air chamber.
Who is the AlterG Treadmill designed for?
Users of the AlterG system can range from orthopedic rehabilitation patients, determined athletes and runners looking to expand their performance training, to those looking for a new advantage to cardio training. For rehabilitation patients, the AlterG allows for the protection of healing tissue while still providing aerobic exercise, as well as improving gait mechanics and preventing disuse atrophy.
How can AlterG help athletes and runners?
As an athlete coming back from injury, the AlterG can help you maintain fitness while you are recovering from a lower-extremity injury. This training will help you return to full fitness sooner after an injury and will help you to return to functional activities. With the AlterG, runners can improve aerobic conditioning without increasing the risk of stress-related injuries. Including the AlterG into your weekly running schedule on top of your outdoor running allows you to add more miles without risking injury, all in the comforts of two of BayCare's rehabilitation centers.
Do you want to take your game to the next level? Purchase an Alter G membership and use this unique equipment as part of your training regiment.
$100 Membership
- Receive 12 45-minute sessions
- Includes equipment instruction
$200 Membership
- Receive 16 hour-long sessions
- Includes equipment instructions
For more information or a FREE 10-minute trial, call (727) 461-8874.