Morton Plant Hospital 100th Anniversary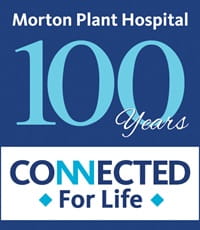 Morton Plant Hospital Centennial (1916-2016)
Standing By Your Family for 100 Years
In 1912, millionaire Morton Freeman Plant and his family were vacationing in Clearwater when his son, Henry, was severely injured in a car crash. With no hospital in town to treat his child, Plant ordered a railroad car equipped with medical supplies and personnel to be rushed from Chicago to Clearwater. For months, Henry recuperated in the makeshift hospital room parked alongside the Belleview Hotel where his family wintered.
Several years later, his son's misfortune prompted Plant to strike this deal with the town: if the residents raised the $20,000 necessary to build a hospital, he would establish a $100,000 endowment for it. Clearwater's citizens met the goal in a mere two months, and the Morton F. Plant Endowed Hospital opened on January 1, 1916. With 20 beds, five bassinets and one operating room, the two-story facility was the first hospital built in northern Pinellas County.
Almost a century later, Morton Plant Hospital is a nationally recognized 687-bed facility providing highly technical and specialized care to more than 50,000 patients annually. Working in more than 50 specialty areas, Morton Plant Hospital's board-certified physicians, highly trained nurses and other skilled staff help take research, diagnostics and patient-centered care in bold new directions.
Learn more information from the Morton Plant Hospital history books and from the stories that connect us.
Morton Plant Hospital Timeline
(Source: The Spirit of Morton Plant – A Retrospective: 1916-1991. Note, statistics and references to names of places are included here as they were in 1991)
1897
Railroad magnate Henry Plant opens the Belleview Hotel (now the Belleview Mido Resort Hotel).
1899
Henry Plant dies; his heir is son Morton Freeman Plant, who vacations at the Belleview Hotel.
1912
Henry Plant II, Morton's young son, is thrown from a car and is badly injured. The nearest hospitals are a full day's journey away. Morton outfits a railroad car for the boy to recuperate in.
1912
The ladies of Clearwater, encouraged by Dr. John Bowen, start a fund drive to build a hospital.
1914
They approach Morton Plant, who offers them an endowment of $100,000 in railroad stock if the community can raise $20,000.
In one month, the money is raised by a community of only 2,500 people. The West Coast Hospital Association is born.
Five acres on the edge of town next to "Harbor Oaks," Clearwater's finest residential neighborhood, is purchased from Mr. and Mrs. C. Perry Snell for $4,500.
1915
Construction begins on the $21,298 building.
The first hospital Charity Ball is held at the Belleview Hotel, raising $1,075. It will be a yearly event until 1920.
1916
On January 1, the Morton F. Plant Endowed Hospital opens, with 20 beds and five bassinets. Ward beds cost $12 per week; private rooms are $30-$40 per week; charity cases cost $7 per week.
In February, young Henry Plant II is admitted for treatment contusions and bruises.
First babies born: the son of Florence Dodge Servis, January 4; and Jessie Coachman, April 19.
1920
First X-ray machine (thanks to Mrs. Morton Plant).
1922
The hospital's first building project is a nurses' residence next to the hospital.
1929
First female physician on staff, Dr. Grace Whitford Parr.
Donald Roebling becomes the youngest member of the hospital board of directors.
1931
Donald Roebling funds, builds, and personally presides over the first expansion of the hospital, increasing beds from 25 to 54, building a new operating suite and the first ward for blacks, enlarging the maternity ward, and improving the grounds.
The hospital is approved by the American College of Surgeons.
1932
Doctors' office visits are $1.50; house calls are $5.
1935
First fracture bed and oxygen tank.
The average nurse's pay is $50 per month.
1939
The fate of twins girls born three months premature (Sara Melinda, 2 lbs. 8 oz., and Laura Lucinda McMullen, 2 lbs. 2 oz.), makes front-page news around the state. Nurses make an incubator out of an orange crate and a light bulb. Three months later, the girls go home to the family home in Safety Harbor where the McMullen family pioneered 90 years before.
1940
Fund raising begins for a badly needed new wing.
1941
Roebling infuriates some board members by offering to underwrite the total cost ($40,000) of the new wing if his construction company is hired to do it without bids.
The first "Roebling" wing opens, increasing beds to 75.
America enters World War II.
The hospital Auxiliary is formed; it is the second hospital auxiliary in the state.
1943
Penicillin is available but for military use only; streptomycin is discovered.
1946
The Hill-Burton Act provides funds for hospital construction nationwide.
1947
First radiologist, Dr. Hammond Groves.
1949
With guidance from Dr. Raymond Center and Dr. Julio Guerra, the Business and Professional Women of Clearwater organize the area's first blood bank, the Upper Pinellas Blood Bank, headquartered in the hospital.
1950
Clearwater's population is 15,581.
The second largest endowment after Morton F. Plant's, the estate of George K. Morrow (Gold Dust Twins Cleanser), brings in more than $800,000.
1951
New surgery opens.
First air-conditioning installed.
First black physician admitted to staff, Dr. Harry F. Taliaferro.
1952
First hospital administrator, Theodore L. Jacobsen.
First hospital pathologist, Dr. James Leonard.
1953
The Laboratory now performs frozen sections.
First recovery room.
1954
The second "Roebling" wing opens, at a cost of $327,745, increasing beds from 75 to 135, including a 10-bed pediatrics unit.
First hospital pharmacy; first registered pharmacist, Bob Beckner.
First bacteriologist, Johanna Glacy-Araos.
Nurses make $205 per month.
The 40-hour work week is instituted.
MPH has 144 employees.
1955
The Sabin vaccine for polio is widely distributed.
First graduate dietitian, Dixie Baker.
All pathology work is now done in the hospital lab.
1956
Baby boom: Cribs are stacked three high in the nursery.
1957
The Charity Ball is revived to help with charity patient overload.
The hospital offers a program to train LPNs.
The Sunshine Annex opens, a temporary, no-frills ward to alleviate overcrowding.
First public relations department.
1958
The hospital receives first Hill-Burton funds.
The Auxiliary admits teen-agers.
1959
Donald Roebling dies, leaving a $1-million trust fund for the hospital and a new laundry.
The Roebling Building opens, at a cost of $1.4 million, increasing beds from 135 to 215; Laboratory, emergency, and maternity expand.
1960
Wilma Lucille Witt (Hav-A-Tampa cigars) bequeaths nearly $2.5 million to the hospital, the largest bequest ever.
New hospital administrator, Roger White.
First kidney dialysis machine.
First Physical Therapy Department.
Clearwater's population is 34,653; Morton Plant has the only emergency room in the area.
1961
First speech clinic at hospital.
1963
First electroencephalograph.
First Respiratory Therapy Department.
First warming isolette in the nursery.
1964
The Morrow Pavilion opens, at a cost of $350,000, increasing beds to 278.
The hospital now owns seven acres of land.
1965
The Medicare and Medicaid programs begin.
The Upper Pinellas Blood Bank becomes R.E. Hunter Memorial Blood Bank.
The Speech Clinic becomes the Department of Communicative Disorders.
The West Coast Hospital Association becomes Morton F. Plant Hospital Association
The hospital begins integration of white and black patients.
First Security Department.
1967
The Witt Building opens, at a cost of $2.8 million, increasing beds from 278 to 501, and includes a new cafeteria and auditorium.
The last of the original (1916) hospital building is torn down.
First hospital computer.
First Intensive Care Unit.
1968
The estate of board member Edward Barnard (Standard Oil engineer), $750,000, is left to the hospital.
1969
First Occupational Therapy Department.
First Credit Union.
1970
Three-fourths of all drugs in use today did not exist
1971
First neurological ICU.
The Auxiliary opens the Pink Bazaar resale shop.
New laundry.
Employees number 1,245.
1972
The Florida legislature passes the Baker Act, designed to prevent imprisonment of people needing psychiatric attention.
First psychiatric unit.
First director of Medical Affairs, Dr. Richard B. Cuthbert.
The concrete pour for the Barnard Building slab takes 40 concrete-mixer trucks and is the largest pour ever in Pinellas County.
First nurse midwife
1973
1974
The R.E. Hunter Memorial Blood Bank becomes Hunter Blood Center.
1975
The Barnard Building opens, at a cost of $9.7 million, increasing beds from 501 to 750; and includes a new surgery, recovery room, ICU, radiology and emergency room.
Heart Center opens; first open heart surgery.
First orthopedic surgical suite for total hip and joint replacement.
1976
First echocardiograph in Heart Center.
First ResusciAnnie for CPR instruction.
1977
New administrator, Duane T. Houtz.
Nuclear Medicine Department established.
First CT scanner.
The Foundation is established; the first administrator is Edward Michel Jr.
First Golf for a Purpose.
First female president of the medical staff, Dr. Jean Bennett.
First patient advocate, Audrey Gifford.
1978
The hospital acquires the White House Nursing Home and the Clearwater Rehabilitation Center for $2.25 million to form Morton Plant Rehabilitation and Nursing Center.
Second Foundation administrator, David J. Rosser.
New director of Medical Affairs, Dr. Norman Tarr.
A tornado hits a school; it is the area's worst disaster. Morton Plant treats 70 children.
1980
The Foundation establishes the Donald Roebling Society for top donors.
Margaret Keenan Lykes (Florida Lykes family) donates $600,000.
William (a Chicago banker) and Elizabeth Adler donate $1 million.
1981
Lykes Cancer Center opens, at a cost of $1.76 million.
The Pink Bazaar is now called the Auxiliary Attic.
First hospital chaplain, Frank King.
The Auxiliary sponsors the first Holiday Lights.
The Adlers donate the first portion of a $2 million gift.
First Critical Care Internship Program for nurses.
1983
Norine V.N. Corell donates $1 million.
The Adler Institute for Laboratory Medicine opens. At a cost of $3.5 million, the Adler Building also includes the Norine V.N. Corell Center for Cardiovascular and Nuclear Medicine.
The hospital acquires Independent Home Health Services.
The Geriatric Center is established.
Physician Referral Service is formed.
1984
First percutaneous nephrolithotomy.
Genevieve Christ donates $1 million.
1985
The Aldham-Christ Day Surgery Center opens at a cost of $3.5 million.
The hospital becomes a partner in Hospitals' Home Health Care of Pinellas County.
First percutaneous endoscopic gastrostomy in state.
First ankle arthroscopy.
The North Witt addition to the Witt Building opens.
1986
Lewis and Florence Barrett donate $750,000.
The Barrett Center for Outpatient Rehabilitative Services opens, at a cost of $2.73 million.
The hospital restricts indoor smoking to patients only.
The hospital acquires Bayview Gardens Retirement Community.
The MRI opens at cost of $2 million.
The Institute of Neurosciences opens.
The Pregnagym opens.
1987
The high-rise at Bayview Gardens is renamed the Eleanor and Thomas W. Inseal Tower, honoring their donation of $1 million over many years.
The Cardiac Rehabilitation program begins.
3,000th open heart surgery.
First aortic valvuloplasty.
First automatic implantable cardioverter defibrillator.
The Wellness Center is created.
The Women's Center is created.
1988
The Imaging Center (outpatient imaging services) opens at a cost of $6.7 million, a joint venture between the hospital and the medical staff.
Lykes at Largo, a satellite cancer facility, opens.
The Therapeutic Pool opens.
1989
Independent Global Home Health Services becomes the largest hospital-based home health care agency in the state.
Morton Plant Health Center, a family and specialty care satellite, opens in Palm Harbor.
The Laser Institute is established.
New director of Medical Affairs, Dr. John C. Babka.
1990
Lykes Cancer Center becomes known as the Lykes Center for Radiation Therapy at the Morton Plant Cancer Center.
The mobile mammography program begins.
The hospital acquires the three-acre Siple's Garden Seat Restaurant property.
First transesophageal echocardiograph.
First Iaparoscopic cholecystectomy for gallbladder removal.
The Joslin Diabetes Center of Boston affiliates with Morton Plant.
The Wellness Center facility opens.
HealthPlace, a resource center for senior adults and their families, opens.
1991
The Adler Building Addition opens, at a cost of $15.5 million, housing the Women's Center, adult and pediatric mental health, Nuclear Medicine, and cardiac catheterization.
The hospital prohibits all indoor smoking except by patients with exceptional circumstances.