Nutrition is one of the pillars of good health. It's vital to helping you manage your weight and stave off medical conditions caused or aggravated by improper nutrition. Nutrition plus lifestyle change equals your best life. Your registered dietitian nutritionist is a licensed professional, and with their help, you can reach your goals and use food to fuel your mind, body and spirit.
BayCare Fitness Center Nutrition and Wellness Programs
One-on-One Nutrition Coaching (Virtual and In-Person) & Nutrition Fundamentals Class (Virtual)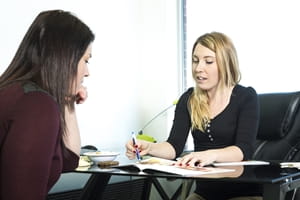 Optimizing both your exercise and diet can really transform the way you look and feel. But changing your diet can be hard, which is why we put together the ultimate nutrition service. Our licensed registered dietitian nutritionist will customize a plan to improve your personal nutritional wellness based on your goals and needs.
Initial Nutrition Consultation - Full assessment of your individual nutrition needs, support and tools in modifying behaviors around food, goal setting based on your individual needs, and answers to your nutrition questions.
Nutrition Coaching Follow Up - Review progress and accountability, identify and discuss barriers to your success, modify goals and plans as needed, and receive ongoing answers and support.
Maybe you aren't ready for one-on-one consulting yet. Then get started with our virtual Nutrition Fundamentals class, led by our Registered Dietitian. This general interactive nutrition class is open to fitness center members and community members.
Free Intro to BayCare Fitness Centers
Receive your FREE intro to a BayCare Fitness Center!
Included in your membership, you receive:
Two coach consults with a personal trainer and virtual Nutrition Fundamentals with a Dietitian
Web-based programming for your specific needs and goals
Yearly screening of blood work including lipid profile
State-of-the-art equipment for all your cardiovascular and strength training needs
Group fitness classes like Zumba, Yoga, HIIT, Cycle, Pilates and more
Access to all BayCare Fitness Center locations
For more information on nutrition services and pricing, download our flyer here.