Maternity and Motherhood Wellness Program
A fitness program created by moms for moms. BayCare Fitness offers an online and in-person prenatal and postpartum fitness program.

What to Expect
Our maternity and motherhood wellness program is designed for moms and moms-to-be. In this program, you can attend small group workout classes with individualized attention tailored to your specific prepartum and postpartum needs. Classes are offered virtually from the convenience of your home or in-person at our fitness centers in Valrico and Clearwater. As a bonus, participants are invited to attend virtual nutrition classes with our registered dietitian; learn more about pre and post-natal nutrition and have your specific questions answered by an expert.
Benefits
By joining a community of moms who understand and support your journey, you can create a network of friends and resources. Some additional benefits can include:
Increased endurance
Better sleep
Boosted energy
Reduced pregnancy risks and pains
How to Get Started

Step 1 – Talk to your doctor
At your next appointment, discuss maternity and motherhood fitness with your doctor. Once approved for physical activity, ask them to sign the required consent form.
Step 2- Sign up
Sign up by emailing your signed consent form to maternityfitness@baycare.org. Once received, we will email you instructions to access our easy-to-use member portal.
Step 3- Pay
While on your portal, you can purchase individual sessions and packages. If you prefer, you can pre-pay for classes at any BayCare Fitness Center.

Step 4- Attend a class
After signing up, you'll receive a list of our monthly class options – online and in-person. Simply register for a class on your portal or email maternityfitness@baycare.org to reserve your spot.

Step 5- Have a happier and healthier pregnancy and motherhood!
Fitness Center Locations
BayCare Fitness Center
BayCare HealthHub™
2470 Bloomingdale Ave. | Valrico
(813) 586-8600
Cheek-Powell Fitness Center
Morton Plant Hospital
455 Pinellas St. | Clearwater
(727) 462-7685
BayCare Fitness Center
Carillon Outpatient Center (Virtual Only)
900 Carillon Parkway | St. Petersburg
(727) 502-4444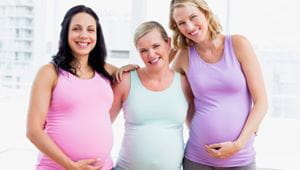 For a limited time, we're offering the first 8 classes of this program FREE to new members!
One class: $25
Four-pack of classes: $80
Eight-pack of classes: $144
Ten-pack of classes: $160
Get 2 free monthly online prenatal or postpartum nutrition classes led by a registered dietitian with the purchase of any package.