Emergency Care in Winter Haven, Florida
If you are experiencing a medical emergency, please dial 9-1-1. For minor illnesses and injuries, visit BayCare Urgent Care for additional information and a list of locations.
Presenting an Emergency Department designed to move likes it's an emergency.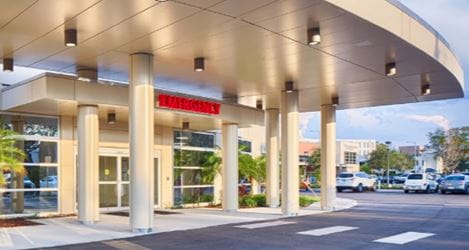 The Winter Haven Hospital Emergency Department has expanded, and is now more efficient than ever before. We offer convenient, efficient medical treatment for minor or major emergencies and illnesses, ranging from lacerations, sports injuries and the flu to heart attack or stroke symptoms.
Some facts about the Emergency Department:
Each room is private with real doors—this blocks out the usual noise and hubbub of a busy ER and gives our patients the privacy and quiet they need.
All rooms are state-of-the-art—we use the most advanced electronic monitoring for all of our patients. Further, the entire hospital uses Electronic Medical Records (EMR), which means our clinicians can quickly obtain important information that our health care delivery is more efficient and timely.
Patients safety will continue to be critical—we use bar scanning for medicine delivery, so nurses scan a patient's wristband to ensure patient safety before giving any medication.
Onsite diagnostic services–the emergency department has its own radiology suite made up of X-ray, ultrasound and CT scanning used to diagnose everything from broken bones to strokes.
Bariatric Rooms – Two specially designed patient rooms can accommodate larger patients in a comfortable environment.
Valet Parking – Our free valet parking service is available Monday through Friday, from 8am to 5pm.
Our goal is to provide accessible, compassionate, comprehensive, high-quality acute health care to patients of all ages. When every second counts you can count on our highly trained staff and physicians to provide your emergency care in a safe and comfortable environment. Whatever the need, we are here for you, 24 hours a day, seven days a week.
Experienced Emergency Care Team
Our experienced team of physicians, physician assistants, nurse practitioners, registered nurses and patient care technicians treat emergency conditions, provide advanced imaging services and offer surgical services here in the hospital if patients need further treatment.
Pediatric Patients
We care for pediatric patients; but, if necessary, we can arrange for transfer to St. Joseph's Children's Hospital. Our doctors often consult with pediatric specialists at St. Joseph's Children's Hospital before deciding how to treat our pediatric patients.
Emergency Services
Available medical and surgical specialties include:
Cardiac Services
Ear, Nose and Throat (ENT)
General Surgery
Gynecologic Services
Inpatient Psychiatric
Intensive Care Services
Neonatal Intensive Care
Neurological Services
Obstetrical Services
Ophthalmologic Services
Orthopedic Services
Pediatric Services (medical only)
Pulmonary Services
Spinal Cord Injury
Thoracic Services
Urological Services
Vascular Services
Vertical Bed Area (VBA)
When you're having an emergency, but it isn't an emergency, emergency – you can still be treated quickly and efficiently in our Vertical Bed Area.
Below are just a few of the conditions we treat in the Vertical Bed Area:
Flu, colds and sore throat
Sinus, ear and eye infections
Urinary tract infections
Sprains, strains and minor fractures
Animal and insect bites
Laceration and wound care
Contact Information
Winter Haven Hospital's Emergency Department staff is unable to answer questions of a medical nature for patients not treated in the Emergency Department. If you are experiencing a medical emergency, please call 911 immediately.
For more information, browse our Emergency Center FAQs.
Winter Haven Hospital Emergency Department
200 Avenue F NE
Winter Haven, FL 33881
(863) 293-1121
Directions