Transcatheter Aortic Valve Replacement (TAVR)
St. Joseph's Hospital now offers the latest lifesaving procedure for patients suffering from severe aortic stenosis. Transcatheter aortic valve replacement (TAVR) therapy is a minimally invasive alternative to open-heart surgery. Surgeons can implant a balloon-expandable heart valve in the aortic valve using a catheter and entering through the femoral artery in the thigh. This technique allows for some patients previously considered inoperable to undergo surgery to treat this debilitating disease. St. Joseph's Hospital has been providing this life-saving treatment since March 2014.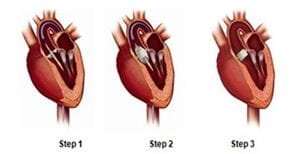 Step 1: Catheter is introduced into the diseased valve.
Step 2: Valve is put in place and expanded with a balloon.
Step 3: Balloon is deflated, catheter is removed and the new valve remains in place.
If you or a loved one have been diagnosed with aortic stenosis and would like to learn more about TAVR, speak to your cardiologist. Most likely, your health professional will recommend a referral to the St. Joseph's Hospital's Valve Clinic. There a multidisciplinary team of cardiovascular surgeons, cardiologists and a cardiac anesthesiologist will conduct a thorough evaluation to determine if TAVR is right for you.
About Aortic Stenosis
Approximately 1.5 million people in the United States suffer from aortic stenosis, which is a progressive disease characterized by abnormal narrowing of the heart's aortic valve. This can constrict blood flow to the body. Of those diagnosed with aortic stenosis, approximately 250,000 suffer from severe symptomatic aortic stenosis. Extreme fatigue, severe shortness of breath, chest pain and lightheadedness are all symptoms of severe aortic stenosis.
While many individuals can benefit from aortic valve surgery to treat their aortic stenosis, approximately only two-thirds undergo the procedure annually. Many patients do not because they are deemed inoperable, have not received a definitive diagnosis, are concerned about the surgical risks or assume that the condition is simply a normal part of the aging process.
Unfortunately, patients who do not undergo aortic valve replacement do not have any other effective, long-term treatment options to prevent or delay the disease's progression. Without the surgery, severe aortic stenosis is life-threatening. Research indicates that about half of all patients diagnosed with symptomatic aortic valve stenosis will not survive more than an average of two years after the onset of symptoms.
Individuals throughout the Tampa Bay area can learn more about TAVR and the Valve Clinic at St. Joseph's Hospital in Tampa, FL by calling the Valve Clinic Coordinator at (813) 321-6580. Physicians can fax a referral form to (813) 321-6581.