Heart Institute
When you or your child has a heart condition, you want to make sure you are getting the best care possible. At St. Joseph's, you can feel confident that you have chosen a leading center for diagnosing and treating patients with heart conditions. The Heart Institute provides heart services to patients of St. Joseph's Hospital, St. Joseph's Women's Hospital and St. Joseph's Children's Hospital. We see patients of all ages, ranging from babies still in the womb to adults. Our surgeons perform a high volume of cardiovascular surgeries every year.
Heart Institute in Tampa, FL
Our newly redesigned Heart Institute, open for services February 2014, offers you even more convenience and expanded services. Our customized procedure rooms are equipped with the most sophisticated technology available. We have also created more private, quiet spaces to maximize comfort for you and your family.
At our Heart Institute, we bring you advanced technology and the full spectrum of heart services, while continuing to provide the same level of personalized care you have come to expect for yourself and your children.
Our Heart Institute features:
Plenty of space. 35,000 square feet, to be exact, located directly over the Pediatric and Adult Emergency Departments. The institute is on the same level as the Pediatric and Adult Post-Operative Intensive Care Units, giving you easy access to our services and decreasing the transport time between units.
Pre-op and post-anesthesia care unit (PACU), providing specialized care for our adult patients undergoing heart procedures.
Pediatric pre- and post-operative areas, with a new 20-bed pediatric prep recovery area.
Expanded family waiting room and a private space for physicians to meet with families either before or after a procedure.
Collaborative care. The Heart Institute makes it easy for our heart experts to communicate regarding your care. The procedure rooms are right next to each other, gathering our experts in one place. If questions or complications arise, we can quickly collaborate and interact, providing the services and expertise you need.
Advanced Heart Care at the Heart Institute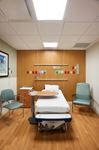 We've created dedicated areas where we can offer specialized care for all of our patients' heart needs. Our procedure rooms are:
Customized. We use the latest medical equipment, customized specifically to our space and needs. This design enhances workflow and efficiency, allowing our physicians to care for you with superior precision and excellence.
Advanced. Our rooms are equipped with the most advanced cardiac equipment possible, including:

Sophisticated heart-lung machines
Imaging equipment that provides real-time, detailed, cross-sectional images, including 3-D imaging
Surgical equipment that allows your physician to operate with unprecedented accuracy

Convenient. We designed the location of the procedure rooms to minimize the transport time, providing quicker access to care.
Learn more about heart conditions we treat and heart services we provide.
Heart Procedure Rooms at St. Joseph's
These specialized areas combine sophisticated imaging and surgical technology with the expertise of our adult and pediatric heart specialists:
Interventional cardiologists
Cardiothoracic surgeons
Electrophysiologists
Cardiologists specializing in the diagnosis of heart-related conditions without invasive procedures or surgery
Our procedure rooms include:
State of the Art Imaging Center. Our Non-Invasive Cardiology Department provides diagnostic tests that help physicians better evaluate and diagnose heart problems. Electrocardiograms, echocardiograms and stress testing are just a few services provided to inpatients and outpatients. Our team performs these diagnostic procedures in our Heart Institute procedure rooms, equipped with the latest imaging technology available.
Three-dimensional (3-D) echocardiography is an ultrasound test using sound waves to create a detailed, 3-D moving picture of the heart and involves no radiation exposure.
Holter monitoring uses an apparatus that logs and electronically records heart rhythms and electric activity over an extended period of time. Electrode patches are affixed to an individual's chest and connected to a monitor worn in a pouch around the waist or in a pocket. Holter monitoring evaluates the heart's response to activities and is sometimes worn after a heart attack to check for heart rhythm problems including atrial fibrillation and palpitations.
Additional non-invasive procedures include

Transesophageal Echocardiography
Electrical Cardioversions
Chemical Stress Tests
Tilt Table Tests
Contact Us
For more information or for a physician referral call (813) 644-4322.
Map and Directions