Chapel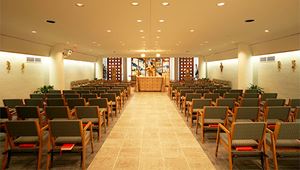 The Chapel is available for prayer and meditation by patients and families 24 hours a day. Catholic Mass is celebrated from noon to 12:30 p.m. on Sunday, Monday, Tuesday, Wednesday, Thursday and Friday. There is no Mass on Saturday.
If you would like a chaplain to visit you during your hospitalization, please ask your nurse to contact the Pastoral Care office.
If you would like to submit a Call for Prayer Intention, please email your prayer request.
For more information, please call (727) 825-1103.