A Team Approach to Treatment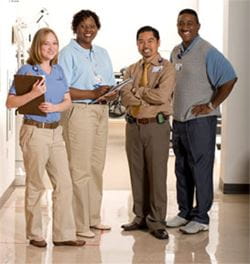 Treatment of chronic wounds requires a comprehensive approach that takes into account all factors of a person's health. Our wound care team consists of professionals from a wide range of disciplines and depending on a patient's individual needs, the following professionals are available:
Wound care and hyperbaric physicians
Wound care nurses
Hyperbaric technicians
Infection control doctor
Physical therapists and rehabilitation specialists
Dietitians
Diabetic educators
Directed by our wound care physicians, our wound care team establishes a comprehensive treatment plan of care that addresses the patient's specific needs. Our team also coordinates treatment with family, nursing homes and home care services.
The referring physician is an integral part of the team. While the wound care and hyperbaric physicians monitor patient status and progress, primary care remains under the referring physician or surgeon. The Center will ensure that our wound care physicians communicate with the referring physicians by sending copies of the consultations, history and physicals, and progress notes. As needed, the wound care and hyperbaric physician will contact the referring physician to discuss patient progress and treatment plan of care.