Robotic-Assisted Spine Surgery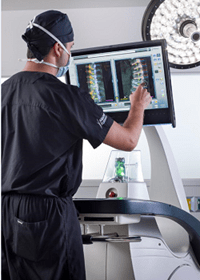 Nearly 80 percent of Americans will experience back or neck pain. Conservative treatment such as medication, injections or physical therapy helps some people, but many require surgery. Robotic spine surgery, an advanced new technology, is available at Morton Plant Hospital using the Mazor Robotics Renaissance® Guidance System.
What is Robotic-Assisted Spine Surgery?
Robotic-assisted spine surgery is a minimally invasive form of surgery that is carefully planned out by your surgeon using CT (computed tomography) images of your spine days before you actually enter the operating room, in most cases. The CT images are uploaded to software that creates a virtual 3D model of your spine, completely customized to your anatomy and diagnosis, and surgical plan for the surgeon and team to review prior to surgery. This allows the surgeon to know the precise location of where the tools and implants will be placed even before stepping into the operating room. This pre-operative "blueprint" can be reviewed by the surgeon at any time before or during the surgery to identify possible challenges, locate anatomy and determine the best tools to use during the procedure.
Next, in the operating room, the surgeon will use a camera mount, that will attach to a patient's spine to ensure maximum accuracy. Once the mount is in place, a 3D image marker is attached to the mount and two more CT images are taken to match the images to the pre-operating plan.
Finally, the surgeon is ready to perform the operation using the mount and a guidance unit. The software locates the exact location of the incision with 1.5 mm accuracy and allows the surgeon to be in full control during the entire procedure.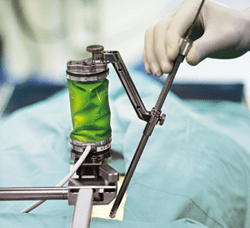 Robotic-assisted spine surgery can help a patient return to a , healthy life and the things they love to do. Morton Plant Hospital was the first hospital in the Tampa Bay area to offer the Mazor Robotics Renaissance® Guidance System for minimally invasive spine surgery as well as deep brain stimulation.
Potential benefits of robotic-assisted spine surgery may include:
Increases accuracy for procedures
Lowers complication rates
Reduces postoperative pain
Enables faster recovery and return to daily activities
Morton Plant Hospital offers the highest level of technological advances in robotic spine surgery and is the only hospital in the Tampa Bay area offering three robotic-assisted surgery devices—the da Vinci® Surgical System, the RIO® Robotic Arm Interactive Orthopedic System and the Mazor Robotics Renaissance® Guidance System. We proudly serve patients in Belleair, Clearwater, Largo, Pinellas Park, Seminole and the surrounding Tampa Bay area. If you have pain in your neck, back, legs or arms, this may be a sign of condition within your spine and you may be a candidate for minimally invasive spine surgery. To find a surgeon who performs robotic spine surgery or neurosurgeon specializing in deep brain stimulation, call 1-800-BayCare (229-2273)..