Baby Portraits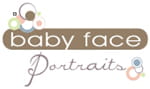 As part of your hospital stay, Mease Countryside Hospital has arranged for Baby Face Portraits to provide you a complimentary professional portrait session. Along with your free session you receive reduced pricing on professional portrait purchases. Baby Face Portraits only employs accomplished professional photographers. These photographers are specialists in creating beautiful, artistic newborn portraiture. Using natural light, as well as a variety of props, and poses including skin-to-skin and fingers & toes, they capture the emotion and wonder of this life-changing experience in the privacy of your hospital room.
While some moms would like their baby photographed in a special outfit, we have found that there is nothing more beautiful than newborn baby's skin. Of course, if you have a special blanket or items you would like to include in some of your portraits just let your photographer know.
At conclusion of your special session, you will be presented a number of images from which to choose. Portraits, birth announcements and keepsakes are available. Perfect for our "digital moms", you can choose to have images placed on a flash drive to take home or they can be emailed directly to you.

*Signed release required

Free with your order, your baby can have his own Web page. Within hours of your session, friends and family around the world can see your new baby face. A guest book is provided for all the welcoming messages your baby is sure to receive – a great addition to your baby book. You never have to worry about the security of your Web page as all pages are password protected for your baby's safety. To view your baby's Web page, click the link below.