Diagnosed While Pregnant, Breast Cancer Survivor Shares Her Story to Help Others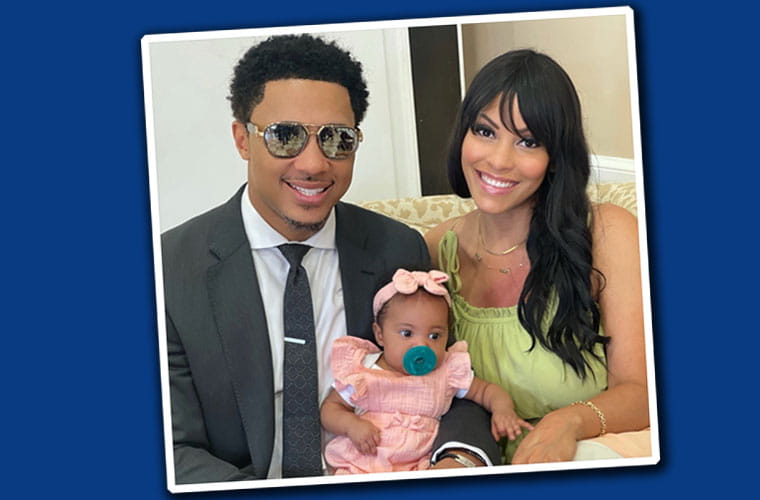 Alicia Henry and her husband, Norman Harris, met during the pandemic. Their daughter, Journi, was born in February 2022.
The power of a new tool for breast cancer radiation therapy is making an impact at St. Joseph's Hospital, as one young mother recently discovered. St. Joseph's is the first hospital in Tampa Bay to use PreciseRT, a cutting-edge technology that delivers targeted treatment to limit the exposure of stray radiation to healthy organs.
Last fall, a doctor found a lump on Alicia Henry's breast during a routine pregnancy checkup. Alicia didn't think it was all that serious until the biopsy came back. She had breast cancer.
A breast cancer diagnosis is difficult for any patient, let alone someone four months pregnant.
"It was unexpected," Alicia said.
Alicia had recently married her husband, whom she met during the pandemic. They were excited to start their life together and bring their baby into the world. Determined to overcome this diagnosis, Alicia wasted no time seeking treatment. And she knew just the place to do it.
"I had both of my older kids at St. Joseph's Women's Hospital, and I was very insistent that I didn't want to get treatment at any other hospital," Alicia said. "I feel comfortable with how BayCare and St. Joseph's operate."
Alicia made an appointment with Dr. Robert Gabordi, a breast surgeon at St. Joseph's Hospital, who performed her lumpectomy within six weeks of her diagnosis. Dr. Gabordi gave Alicia confidence in her treatment plan during what she described as an uncertain time.
"He's such a great doctor," she said. "He's like an angel in disguise."
In December, Alicia started chemotherapy with Dr. Luiz Marconcini, an oncologist at St. Joseph's Hospital. She admits she was nervous about the idea of undergoing chemo while pregnant, but Dr. Marconcini assured Alicia that her baby would be safe. She did two sessions of chemotherapy. Then, on February 8, Alicia gave birth to her healthy daughter, Journi. She completed two more sessions of chemotherapy shortly after.
Once her chemotherapy treatment was complete, Alicia began radiation therapy with Dr. Nitesh Paryani, a radiation oncologist at the St. Joseph's Hospital Cancer Institute. Alicia was one of the first patients in Tampa Bay to use a targeted radiation therapy known as PreciseRT, a new device provided to the Cancer Institute by St. Joseph's Hospital Foundation. St. Joseph's Hospital is currently the only hospital in Tampa Bay offering this treatment.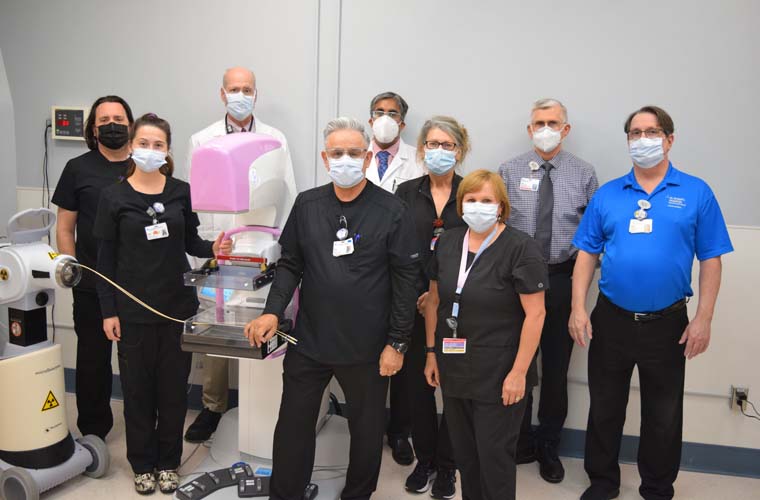 St Joseph's Hospital is the first in Tampa Bay to offer the PreciseRT.
As a relatively young patient with left-sided breast cancer, Alicia faced the risk of long-term cardiac damage from radiation therapy.
"By using the PreciseRT technique we were able to reduce the risk to the heart and limit long-term complications," said Dr. Paryani. "Ms. Henry's treatment turned out very well and we are hopeful she will have minimal risk of any long-term complications."

Alicia finished radiation therapy in June. For Dr. Gabordi, who performed her breast surgery last fall, seeing his patient's success was a testament for why he does what he does.

"Alicia's journey through her cancer treatment and pregnancy was remarkable and handled with grace," he said. "Seeing her hold her newborn in her arms cancer free is one of my proudest moments in my professional career."

Following her treatment, Alicia has used her experience to help other pregnant breast cancer patients through their own diagnosis and treatment. Now cancer free, she's happy to move on with her life with her husband, Journi and two boys. And she's glad she turned to St. Joseph's Hospital for care.

"BayCare has some of the best doctors and surgeons around," Alicia said. "It had everything all in one place. I trust in BayCare."
To learn more about the St. Joseph's Hospital Cancer Institute, click here.