CT Scan leads to "I do" and Commitments to Early Detection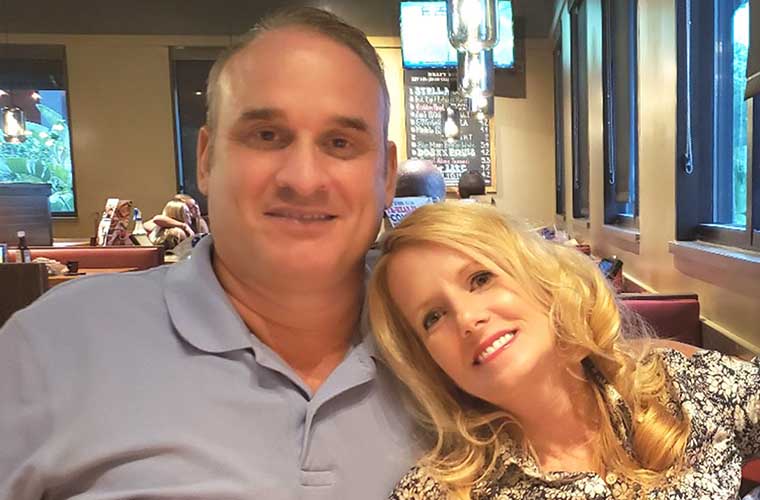 Chris and Dawn have been married 17 years now. They have Bernie to thank.
It was early April 2002. The day started out like any other for Chris Blanchard, a CT technologist at Bayfront Medical Center, which was part of BayCare at the time. He had no way of knowing that events would soon unfold that would change his life.
Chris happened to be assigned to the outpatient scanner that day rather than the inpatient scanner. He and fellow technologist, Bob, were about to see a patient named Bernadette Taylor. Normally, patients come into the scan room alone to be tested, but Bernadette was nervous and asked if her daughter, Dawn, could accompany her. Chris and Bob agreed.
Bob was helping Bernadette get on the table. Chris was in the back of the room typing her information into the computer, and he and Dawn started talking. Looking back, he said it felt easy, comfortable.
Bernadette was facing a possibly grim diagnosis. She was not inclined to see doctors, and had never had a mammogram, but when she developed an open wound on her right breast, she relented and went to a doctor. Results of a mammogram prompted further tests.
Despite her fears, at this moment her thoughts were on her daughter. As Chris joined Bob at the table, Bernadette said to Bob, "I need a good man for my daughter.'' Bob put his arm around Chris and said, "I've got the guy right here.''
Chris was embarrassed and felt on the spot, but he also was intrigued.
A few days later, Bernadette came back for an MRI. It was just across the hall, so Chris stopped by to see how things went. Bernadette handed him Dawn's phone number and said, "Give her a call. Do it for me.''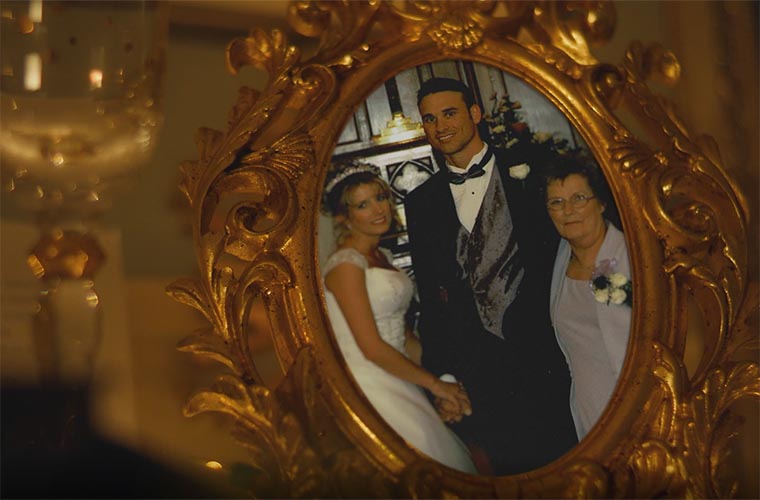 While Chris and Dawn were falling in love, Bernie, as she became known, was fighting Stage 4 breast cancer. She had a mastectomy, radiation, chemotherapy – the gamut. Chris took her to a lot of her treatments.

She did well for a while, and her hair grew back in time for Chris and Dawn's wedding in October 2003 - a year and a half after Bernie's CT scan.

"She used to come stay with us,'' Chris said. "She was always cooking and doing the laundry. We were pretty close. She said, 'I see you as a son, not a son-in-law.' ''

Bernie needed that sense of family. Her husband had died of a heart attack when Dawn and her sister Diane were young. Chris had faced challenges of his own. He'd lost his mother to ovarian cancer and watched his father fight prostate cancer.

In 2006, Bernie experienced stroke-like symptoms. The cancer had spread to her brain. Doctors gave her options, but she didn't want to return to the hospital. She chose hospice and died at home at age 67.

Chris wants to continue the fight that Bernie and his mother lost. He and Dawn do a lot of cancer walks, and he encourages people to get screenings.

He immediately resonated with BayCare's #HonorScreening campaign that launched this year. The campaign encourages individuals to stop putting off a vital tool for battling cancer: early detection. Chris, now the manager of Imaging Services at St. Joseph's Hospital-North, believes if Bernie had gotten regular mammograms, she could have lived a lot longer. For his part, he's had colonoscopies and gets his PSA (prostate-specific antigen) checked.

Chris and Dawn have been married 17 years now and have a 12-year-old son, Lucas. They have Bernie to thank.

"When she came to get the CT scan, I think she knew her diagnosis might be terminal,'' Chris said. "She put her kids above herself. She wanted to see her daughter happy. I'm forever grateful that she was a matchmaker that day.''
About this Story:
You may remember Chris's story from commercials seen on television and social media. He is one of many BayCare team members that stepped up when BayCare launched its #HonorScreening campaign. The campaign encourages individuals to stop putting off a vital tool for battling cancer: early detection. Because, well sometimes, we're better at caring for others than caring for ourselves. Get that cancer screening? Nah, I'm way too busy. Maybe next year.

Frame it differently, though, and the response might become more urgent. Do it to honor someone you love.

If Chris and Bernie's story, or someone you love and honor inspires you to get screened for cancer, don't delay. Visit HonorScreenings.org to learn more about the different types of screenings and how to take the next step.
Related Stories