Telehealth surges, keeps patients connected from home during pandemic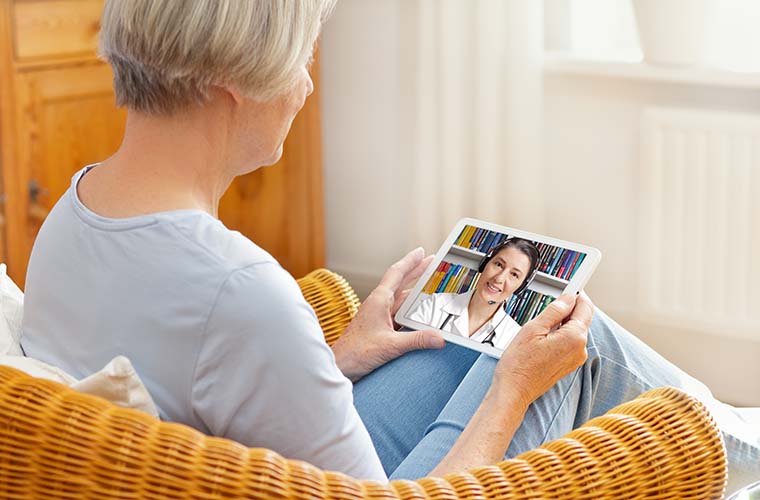 In a time when people were advised to stay at home and clinicians were faced with treating a new virus that threatened both staffing and supplies, a valuable tool gained new respect: telehealth.
BayCare has served patients through electronic communication for years, and the COVID-19 public health emergency brought federal policy changes that supported increased usage of existing technology. Meanwhile, BayCare HomeCare was implementing a new telemonitoring software called Health Recovery Solutions (HRS) to help improve overall patient experience, reduce readmission rates and optimize clinical workflow.
"We're thrilled to be at the cutting-edge of innovative technology," said Kathryn McGuire, vice president of BayCare HomeCare. "The HRS tool allows our clinicians to help treat and oversee our patients virtually in a more safe, efficient and convenient way."
HRS allows HomeCare clinicians to provide 24/7 virtual care for patients over 65 years old after being discharged from the hospital with conditions including chronic obstructive pulmonary disease (COPD), chronic heart failure, acute myocardial infarction (AMI), stroke, pneumonia, sepsis and COVID-19. Since its implementation, BayCare HomeCare helped prevent patients from going back to the hospital, significantly reducing hospital readmission rates.
Through HRS, clinicians can check-in with the patients, monitor, triage, and care for them in real-time. Clinicians (including social workers, respiratory therapists and chaplains) can interact with the patients through video, text messaging and calls to check their vitals, and walk them through treatment and medications. Patients have the ability to safely use their own digital devices to communicate with the team of clinicians.
This platform became critical during the pandemic, helping safely monitor COVID patients to recover in the comfort of their own home. Since HRS launched, BayCare HomeCare has monitored more than 4,800 patients with COVID-19 and other conditions.
"Because of this technology, we were able to provide excellent continuum of care and daily oversight to our patients, including those who were uninsured or living in underserved communities," said Kelly Pollard, manager of remote patient monitoring and special programs for BayCare HomeCare. "This became especially useful during the pandemic. It helped us increase access, keep the patients safer, protect the health of the clinicians and preserve personal protective equipment."
HRS has shown to be a useful service for HomeCare patients, significantly improving outcomes. Given its success during the pandemic, HomeCare hopes to continue to expand its platform further for its patients and integrate the service as part of its standard of care.
For more information, visit BayCareHomeCare.org.