St. Anthony's Hospital Assistant Nurse Manager Receives Department of Defense Patriot Award
ST. PETERSBURG, Fla., (July 22, 2021) Liza Redmond, an assistant nurse manager on the Cardiac Medical 1 unit at St. Anthony's Hospital, is the recent recipient of a Patriot Award, an award of the Department of Defense's Employer Support of the Guard and Reserve (ESGR) program.
The award recognizes Redmond's support for her employee's participation in the National Guard and Reserve. This marks the second Patriot Award that a BayCare team member has received. Last year, Kimberly Demers, nurse manager of the Emergency Department at St. Joseph's Hospital-North, also received the
award
.
Redmond was nominated for the award by Mike Nichols, a nurse on the Cardiac Medical 1 unit at St. Anthony's and a captain in the U.S. Marine Corps Reserve. Redmond was Nichols's supervisor. He was new to BayCare Health System having just started as a nurse at St. Anthony's in 2020. As he began his new job, the world was meeting the challenge of COVID-19 that sent scores of people to hospitals.
The unit that Nichols works on was converted to specifically work with those who had COVID-19. But Nichols was also thinking about his Reserve unit and how it had been affected by the pandemic. He was a U.S. Marine for 4½ years and has served nearly three years in the Reserve.
Because of COVID-19, Nichols knew that he might be called at any time for training or active duty. "During this past year, COVID-19 took its toll on the USMCR ...," he said. "There were many instances where my military commitments changed on short notice."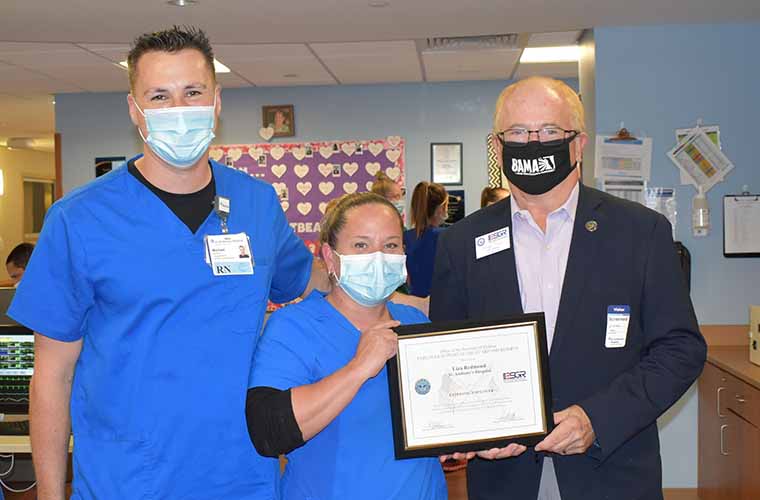 From left, Mike Nichols, Liza Redmond, Roger Trout
According to the ESGR's website, the Patriot Award reflects employer's "…efforts made to support citizen warriors through a wide range of measures including flexible schedules, time off prior to and after deployment, caring for families and granting leaves of absence if needed."
"There were many instances where my military commitments changed on short notice and Liza understood my situation completely," Nichols said in his letter nominating Redmond for the award. "Despite dealing with staffing issues and adapting to new working conditions, Liza frequently changed my schedule and fully supported my service in the USMCR."
Redmond, a St. Anthony's team member for five years, was surprised to receive the national award. "I respect the military and specifically what Mike has done," said Redmond, whose father served in the Air Force and brother retired from Marines. "I really do work to accommodate the time off needed for Mike and for all our team members."
And Nichols has great respect for Redmond for accommodating the time he needed to be with the Reserve unit. "Any reserve military member would be lucky to have a supervisor like Liza," Nichols said, "and I feel that she is fully deserving of this award."
About St. Anthony's Hospital
St. Anthony's Hospital is a 393-bed hospital founded in 1931 as a ministry of the Franciscan Sisters of Allegany. St. Anthony's has a rich history dedicated to improving the health of the community by providing high-quality, innovative and compassionate care. It was one of the first hospitals that joined together to form BayCare Health System. For more information on St. Anthony's, call (727) 953-6993 or go to
www.BayCare.org/SAH
.
About BayCare
BayCare is a leading not-for-profit health care system that connects individuals and families to a wide range of services at 15 hospitals and hundreds of other convenient locations throughout the Tampa Bay and central Florida regions. Inpatient and outpatient services include acute care, primary care, imaging, laboratory, behavioral health, home care, and wellness. Our mission is to improve the health of all we serve through community-owned, health care services that set the standard for high-quality, compassionate care. For more information visit
www.BayCare.org
.