St. Joseph's Hospital-North ER Nurse Manager Honored by the Department of Defense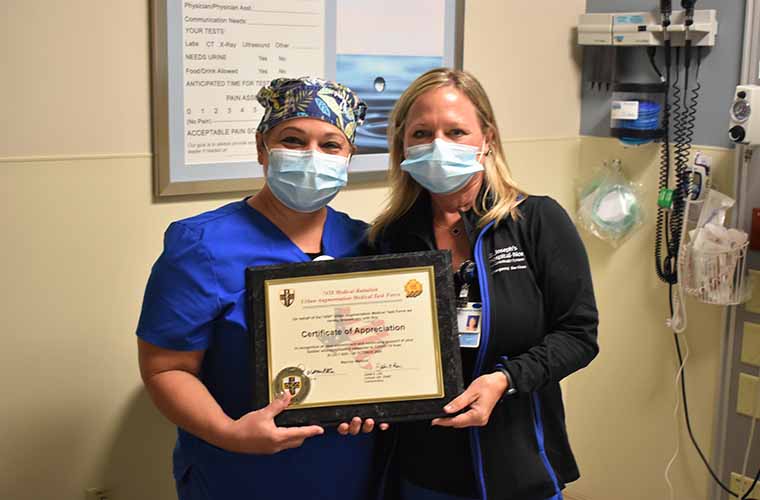 Kathy Lowe (left), Kimberly Demers
Kimberly Demers was nominated by Kathy Lowe, a nurse under Kimberly's supervision
LUTZ, Fla., (December 9, 2020) — Kimberly Demers, nurse manager of the Emergency Department at St. Joseph's Hospital-North, is the recipient of a Patriot Award, an award of the Department of Defense's Employer Support of the Guard and Reserve (ESGR) program.

The award recognizes Demers' support of her employee's participation in the National Guard and Reserve.
Demers was nominated for the award by Kathy Lowe, an ER nurse at St. Joseph's Hospital-North and Major in the 7201st Medical Support Unit of the U.S. Army Reserves. Demers is Lowe's supervisor. Lowe was mobilized and deployed to Harlingen Medical Center in Harlingen, Texas in response to the COVID-19 pandemic and served at the Texas hospital from July 20 to October 8, 2020.

Lowe, a Land O' Lakes resident who's been a BayCare nurse for eight years, was also previously deployed and called to service for two years in 2017 and 2018 to an army hospital in Landstuhl, Germany where she cared for injured soldiers fighting in Iraq and Afghanistan. Lowe has been in the Army reserves for 22 years.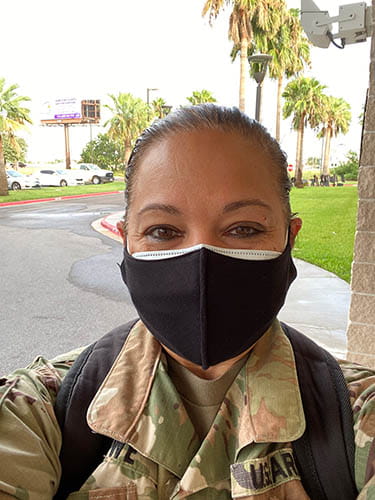 According to the ESGR's
website
, the Patriot Award reflects employer's "….efforts made to support citizen warriors through a wide-range of measures including flexible schedules, time off prior to and after deployment, caring for families and granting leaves of absence if needed."
Ronald E. Bogle, national chair of the ESGR program, wrote in a letter to award recipient Kimberly:
"The Patriot Award you received, based upon your nomination by your Guard or Reserve Employee, is in recognition of your strong support of your employee's military service….By valuing and enabling their military service, you make it possible for our Citizen Warriors to balance the demanding individual responsibilities of both civilian employment and our national defense….Your demonstrated spirit of cooperation and patriotism are in the highest traditions of our Nation, and ESGR proudly salutes you for your well-deserved recognition."
"This is an honor for Kathy to recognize BayCare as an active, cooperative and willing participant in the requirements of her service," said Demers. "We do everything we can to accommodate team members in the service and make sure their reporting to duty and eventual return are seamless. We do this even though we find out about their deployment sometimes on short notice."
Lowe was called to duty with only a week's notice this July at the height of the COVID-19 pandemic.
"I nominated Kim because she's been so supportive during my mobilizations," Lowe said. "I wanted to do something special for her, to recognize her support and flexibility as an employer and supervisor. I was thrilled when I learned that my nomination of Kim was accepted. I really appreciate my management and my co-workers in the ER, those are the ones who have stepped up to the challenges."