BayCare Celebrates Topping Out of Hospital in Wesley Chapel
BayCare marked a new milestone in the construction of its newest, state-of-the-art hospital in Wesley Chapel – a facility created to help meet the needs of the growing community of Pasco County.
BayCare leaders, local officials and community members celebrated the topping out of the hospital facility during a special ceremony on July 16, 2021. The event commemorated the construction project's highest point by placing the last structural beam into the building.
Attending guests signed the beam, and construction workers crane-lifted it at the top of the building, a sign that BayCare's goal of bringing top quality care to the Pasco County community is becoming a reality.
"Thank you for being here today to mark this special milestone for our hospital," said Becky Schulkowski, director of operations for BayCare's Mease Hospitals "We're grateful to everyone who welcomed us to this growing community. We are eager to be serving patients and meet their health care needs by 2023."
The 318,000-square-foot hospital, located on 4501 Bruce B. Downs Boulevard in Wesley Chapel, will provide comprehensive medical services and health care resources including an emergency department, an intensive care unit with virtual-monitoring beds, and diagnostic services such as imaging and lab, and physical rehabilitation.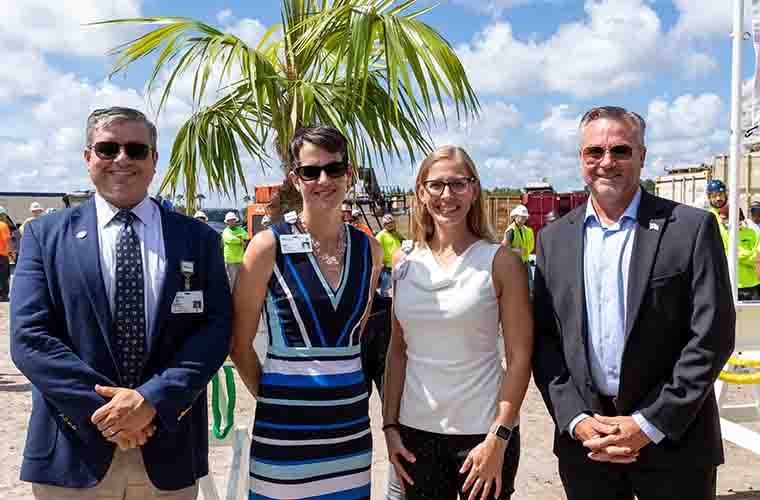 BayCare will invest $246 million to provide Pasco County residents with a new choice for health care services in the area. The health system also will hire hundreds of team members to serve the community at this new facility. The hospital,
which broke ground in Dec. 2020
, is expected to open in early 2023.
"On behalf of myself and Board of County Commissioners, welcome to Pasco county," said Mike Moore, commissioner of Pasco County Board of County Commissioners. "We're thrilled to have you here in our community. This new facility will bring new jobs to our community, and help provide additional health care options for residents of Wesley Chapel."
As one of the largest health systems in West Central Florida, we continue to receive high rankings as a top leader in the industry. Earlier this year, IBM Watson named BayCare in the top 20 percent of high performing health systems across the country. Also earlier this year, BayCare was named one of Fortune's 100 best companies to work for in the country.
The BayCare Hospital Wesley Chapel is one of BayCare's newest facilities in Pasco County. The new hospital will be more convenient for existing patients while also giving residents more options when choosing a provider. BayCare currently serves that community with behavioral health, home health services, physician offices, other ambulatory services and easy access to its existing 15 hospitals across the region.
For more information, visit
BayCareWesleyChapel.org
.