Education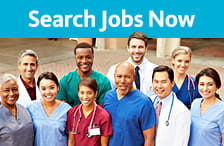 Everything changes when you become a team member at BayCare Health System. That's because we are passionate about providing a work environment that supports your personal and professional growth. Training is available through interactive classroom instruction and computer-based learning. Tuition assistance is also offered for approved credit courses at specific educational institutions. Our commitment to a forward-thinking culture means supporting the development of our team on an individual level. It all starts from day one.
Earn As You Learn (EAYL)
Orientation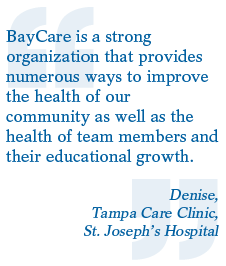 Creating a positive environment means ensuring every team member feels welcomed and comfortable here. That's why our orientation is designed to provide individual support for six months. Through this process, you'll come to understand the nature of our values-based culture and how we serve the needs of others. Establishing a safe and secure environment begins with how we train our team members.
Team Member Development & Training
Orientation is just the beginning. Team members are encouraged to learn new skills, strengthen current skills, and strive for personal and professional advancement throughout their career. We also provide an online assessment tool that helps individuals with career planning. Key training areas include:
Career Development
Clinical Competency
Communication
Computer Skills
Diversity Training
Patient Safety
Leadership Training
We continually invest in the future of our health system by investing in the competencies of our leaders. Within our culture, leadership emphasizes the importance of our mission, vision and values. We seek individuals who model behaviors and competencies that support the future growth of our organization. Extensive leadership training is provided to all management in support of maintaining BayCare's learning culture. Specific competency areas for leaders are:
BayCare's Quality Model
Process Improvement Tools
Coaching
Personal Accountability
Change
Managing Conflict
Mediating Workplace Conflict
Diversity
Continuing Education
BayCare Education Services is an approved provider of continuing education for the follow boards:
Florida Board of Nursing
Occupational Therapy
Pharmacy
Lab
Respiratory
Clinical Social Work, Marriage/Family Therapy
Mental Health Counseling
Medical Assistants
Physical Therapy
Radiology
Certified Addiction Professionals
Partnerships In Critical Shortage Areas
We have partnered with local schools, including St. Petersburg College and Hillsborough Community College, to help provide training for our team members in areas critical to the ever-changing health care industry. To be enrolled, team members must meet the minimum requirements of the school as well as the requirements identified by BayCare. This includes a work commitment. We currently offer specialized training in the following areas:
Nursing
Electronic Medical Records
Med Lab Tech
Therapies
Imaging
Interested in career opportunities at BayCare? Begin your search now!
If you are a BayCare team member, please sign in to the BayCare Intranet to apply for a job.
BayCare means...
a united family of coworkers who strive to better the community by giving the best possible care to those in need in our community.