Clinical Professionals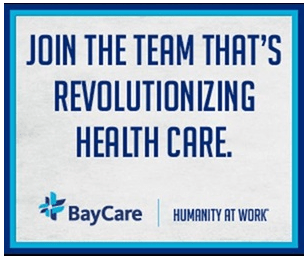 Our team of skilled Technicians and Assistants work with medical teams throughout our hospitals and in various specialties including Laboratory Services, Pharmacies, Imaging, Rehabilitation Services and much more!
Laboratory
BayCare Laboratories have 25 patient service centers located throughout the region. Nine of our hospitals offer highly specialized laboratories where individuals can apply their expertise in diagnosis, monitoring and disease management. Quality services are also offered through walk-in clinics, skilled nursing facilities, assisted living facilities and physician offices.
Our progressive team is committed to advancing the quality of our patient care by ensuring the complexity, accuracy and rapid delivery of test results. We support our team members with flexible work schedules, Lab CEUs for renewing licensure, and a great career ladder. Our goal is to help you build a foundation so you can create the best possible future for your personal and professional success.
Career Paths in BayCare Laboratories: Clinical Laboratory Scientist (Medical Technologist), Histologist, Lab Medical Assistant, Flow Cytometrist, Cytotechnologist, Cytogenetic Technologist
Pharmacy
Become part of the BayCare Pharmacy team and see how far you can go. We have mentors in place to help build your skills and prepare you for advancement opportunities. That means there is great growth potential for the Pharmacists and Pharmacy Technicians who join us here. As part of this commitment to providing continuous opportunities, we seek to provide career support at all levels.
From post-graduate training and pharmacy residency programs to our strong leadership network, there are resources in place to assist your development. Members of our team enjoy strong relationships with physicians and various therapeutics committees. Together, we provide advanced decentralized clinical pharmacy services. You'll also find cutting-edge equipment and advancements being implemented throughout our health system.
Career Paths in BayCare Pharmacy: Certified Pharmacy Tech, Pharmacy Tech, Clinical Pharmacist, Pharmacy Intern
Rehab/Therapy
There are many ways to pursue a career in rehabilitation services. Here at BayCare Health System, each of our facilities provide various practice settings and advanced treatments for holistic care. Whether you prefer outpatient or inpatient, adult or pediatric rehabilitation, there is room to learn, grow and explore here with us.
Join our interdisciplinary team of occupational therapists, speech language pathologists, audiologists and physical therapists. We take a collaborative approach and deliver patient-centered care for a large orthopedic/neurological case mix. We provide flexible scheduling options, opportunities for in-house CEUs, and great work/life benefits. Come experience the rewards of personal and professional satisfaction.
Career Paths in BayCare Rehab / Therapy: Registered Nurse, Occupational Therapist, Physical Therapist, Speech Therapist, Exercise Physiologist, Rehab Services Tech, Licensed Physical Therapy Assistant
Imaging
Here at BayCare Health System, we deliver superior imaging services utilizing best-in-class equipment. Our team members have built an excellent reputation with industry professionals and the community, based on our commitment to excellent customer service and our dedication to implementing advanced technology.
The opportunities for growth are endless and many of our facilities have plans for expansion on the horizon. Come explore a career within our high-energy culture, where team members feel more like family members and management is approachable and accessible. Although each of our campuses is different, you'll find state-of-the-art equipment and advancements being continuously implemented.
Career Paths in BayCare Imaging: Radiology Technologist, Invasive Vascular Radiology Technologist, CT Technologist, Radiology Coordinator, Imaging Coordinator, Imaging Services Rep