Business Professionals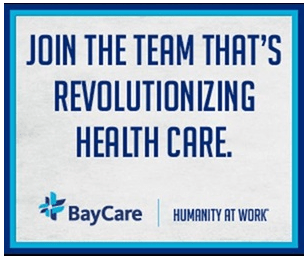 BayCare welcomes professionals in Accounting, Finance, Marketing, Team Resources, Legal, Construction, Customer Service, Risk Management, Supply Chain, and more!
BayCare's shared services areas include the following areas and career paths:
Legal – Paralegal, Associate Counsel, Discovery Coordinator
Team Resources – Team Member Relations Specialist, Recruiter, Payroll Analyst, Retirement Analyst, Compensation Analyst
Organizational Development – Performance Consultant, Education Assistant, Educator
Marketing – Marketing Coordinator, Community Marketing Coordinator
Risk Management – Risk Specialist, Risk Manager
Finance – Financial Analyst, Financial Specialist, Revenue Management
Information Technology – Network, Data and Cyber Security, Systems Analyst
Supply Chain – Value Analysis Coordinator, Senior Contract Manager, Contract Analyst, Supply Chain Analyst
Construction – Construction Assistant, Construction Project Manager
Leadership
BayCare Health System leadership shares universal competencies essential for any leadership role at BayCare:
Communicator: Communicates consistently and transparently – early and often. Seeks to understand the needs, feelings and capabilities of others. Is tactful, honest, and treats others with respect.
Talent Developer: Motivates and guides others to reaching personal and organizational goals. Coaches, mentors, and challenges in a way that inspires people to reach their full potential.
Emotional Intelligence: Creates positive relationships that foster a healthy and fun environment for team members to work, physicians to practice and for consumers to engage with our services.
Collaborator: Works with teams to deliver on our vision and shared goals. Finds common ground with a wide range of stakeholders. Seeks the mutually beneficial solution for all constituencies including our consumers.
Catalyst for Change: Adapt, evolve and transform through thoughtful experimentation and continuous learning. Seek out opportunities within change to differentiate BayCare from its competition and offer the highest level of value for our consumers.
Results Driven: Leads by setting challenging goals and aligning team members to them. Owns and delivers results. Tracks and validates accomplishments using appropriate metrics.
Leadership opportunities are available throughout the BayCare organization in both our corporate office in Clearwater and in facilities.;