Tobacco-free Environment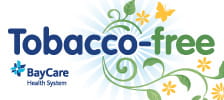 As part of our mission to improve the health of the community, as of January 2011, all BayCare Health System hospitals, outpatient centers, wellness centers and other facilities will become tobacco-free. This means that smoking and/or tobacco use by team members, physicians, patients, volunteers, visitors or vendors will not be allowed on any BayCare campus.
BayCare has chosen to be tobacco-free in an effort to promote a healthy and safe environment for everyone in our facilities. If you are interested in quitting tobacco products, BayCare offers tobacco cessation resources.
BayCare's family of hospitals are: Bartow Regional Medical Center, BayCare Alliant, BayCare Hospital Wesley Chapel, Mease Countryside, Mease Dunedin, Morton Plant, Morton Plant North Bay, St. Anthony's, St. Joseph's, St. Joseph's Children's, St. Joseph's Hospital-North, St. Joseph's Hospital-South, St. Joseph's Women's, South Florida Baptist, Winter Haven Hospital and Winter Haven Women's Hospital.
Additional Resources about BayCare