The Best Place to Receive Care
Dr. Laura Arline was a little nervous when she interviewed at BayCare for a job as a primary care physician 18 years ago. She expected difficult questions, so she came prepared with answers for all the questions she imagined. Perhaps detecting her nervousness, the executive interviewing her said gently, "All I want you to do is take really good care of your patients."
"It's one of the reasons I joined BayCare," said Arline, who is now the health system's chief quality officer. "It's our compassion. It's our humanity. It's that we treat people not just with science, but like they're part of our family."
BayCare's blending of science, clinical best practices and compassionate care has led to an extraordinary rise in its standing nationally. In 2022, for the fourth year in a row, BayCare was ranked in the top 20% of large U.S. health systems on clinical excellence.
Also in 2022, BayCare won seven awards from Press Ganey, an organization that annually surveys patients of tens of thousands of medical facilities about their recent experience of care. "The caregivers at BayCare have inspired us with the compassion, empathy and human connection they bring to the clinical health care setting," said Patrick T. Ryan, chairman and CEO of Press Ganey.
BayCare also was named to the all-industries 100 Companies that Care list compiled by People in 2022.
"When we say we're 'patient-centered,' we walk the talk," Arline said. "And it stretches across the whole care continuum, not just in our hospitals."
Transforming Care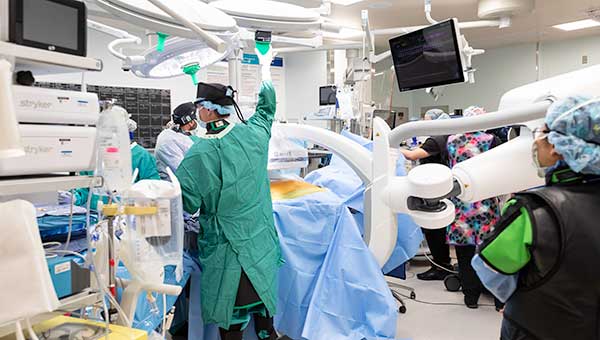 A cardiac procedure gets underway at BayCare's Morton Plant Hospital.
Even while the COVID-19 pandemic still was challenging U.S. hospitals, BayCare teams were working after hours and on weekends on projects to ensure that all our patients would receive the right care, at the right time, in the right place and with levels of quality, compassion and efficiency unmatched in the region.
In 2022, BayCare continued work that was started in 2021 on a three-year "care transformation" initiative, which aims to achieve these big goals:
Enhance care in every patient care environment throughout BayCare
Redesign the delivery of care
Reduce variations in the treatments patients receive for the same illnesses
Minimize utilization of unnecessary clinical services
Across BayCare, multidisciplinary clinical teams are developing "care pathways" that spell out treatment guidelines for the most common illnesses and injuries seen in our patients. These pathways are based on the strongest available medical evidence and are designed to result in the best outcomes for patients, whether they are being cared for in the hospital, a skilled nursing facility, a doctor's office or at home.
During 2022, the teams designed or implemented care pathways for sepsis, chronic obstructive pulmonary disease (COPD) and stroke, and for patients presenting at BayCare emergency departments with low-risk chest pain or deep-vein thrombosis. Data is being collected to make sure that the pathways deliver the expected outcomes, and so far, the results prove the pathways' usefulness.
"If you're a patient at BayCare, you can expect to have a very complete, evidence-based plan of care for your specific illness," said Chief Transformation Officer Emily Allinder Scott, MHA, FACHE. "You'll know, because we'll discuss the plan with you."
More Efficient Care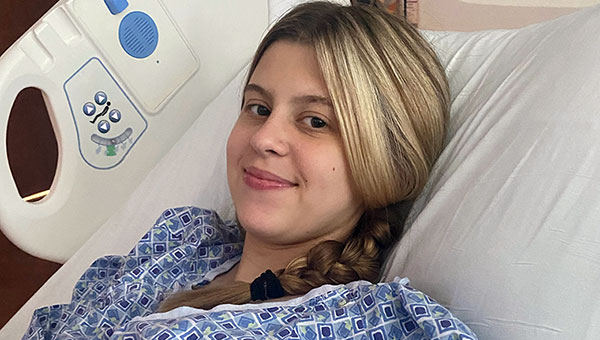 St. Joseph's Children's Hospital (SJCH) patient Hailey Ambrose, 13, prepares to go home only one day after receiving a new pulmonary valve via a minimally invasive procedure that an SJCH cardiologist was the first in the Tampa Bay region to perform. When she was an infant, Hailey's heart defects required open-heart surgery and weeks of recovery.
During 2022, BayCare teams also worked on more than 60 transformation projects focused on ensuring that the care patients receive is delivered safely and efficiently and without causing harm. Efficient delivery reduces length of stay in the hospital, readmissions to the hospital, duplication of services, cost of care and waste of supplies.
These are a few of the projects tackled so far:
BayCare relied on science and data to safely reduce the number of CT scans used in the diagnosis of appendicitis in children, because those scanners emit small amounts of radiation.
BayCare is working to decrease the use of antibiotics, as overuse can lead to antibiotic resistance and leave physicians with few options for treating bacterial infections.
A new, formal process called "the weekend handoff" was implemented so there will be no confusion or lapse in care when hospital weekday clinical teams leave, and the weekend teams take over.
Teams also safely reduced the number and types of lab tests performed on hospitalized patients, limited wastage of precious blood products and are examining ways to make sure that patients get enough healing rest.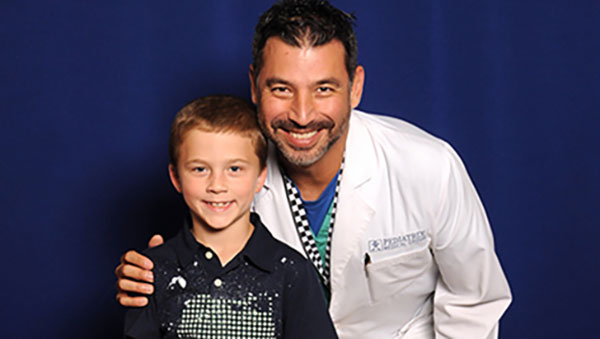 Ten-year-old Titan was the first baby born at St. Joseph's Women's Hospital (SJWH) to receive cooling therapy to reduce damage when the brain is deprived of oxygen or blood during birth. Titan is shown with Dr. Alfonso Vargas, medical director of the SJWH Therapeutic Hypothermia Program, which has provided cooling therapy to more than 150 infants.
In May 2022, BayCare finished launching a safety-oriented initiative called "safety tiered huddles" across the entire health care system. This series of daily, 15-minute safety calls starts at the patient care team level, where any significant issue or concern around a patient's care is discussed. If the issue can't be entirely resolved at that level, it's escalated up to the next level's safety call, and so on, until in a single day, an important issue can make its way from the patient level to BayCare's top executives. This leads to quicker resolution for the patient.
BayCare also is tackling an issue that affects patients in many U.S. health care systems: transitions of care. Unless a hospitalized patient is discharged at the right time, to the right place and in the right way, continuity of care can be disrupted and the patient may have to be readmitted, perhaps even sicker than before. Detailed hospital discharge plans are developed early and, in some cases, extend beyond the patient's hospital stay to other levels of care. Patients are followed to make sure they continue progress toward full recovery after they leave the hospital.
"Our patients deserve to have the best care that's available," Scott said. "It's our duty to fix everything we can, rather than getting too comfortable with the way things have always been done in the past, and to always challenge ourselves to continuously improve for our patients and the communities we serve."
2022 Awards for Clinical Excellence and Patient Experience
Fortune/Merative™ placed BayCare in the top 20% of large U.S. hospitals for clinical outcomes, patient experience, operational efficiency, financial health and contributions to the community.
Fortune/Merative named St. Joseph's Hospitals (including St. Joseph's Hospital, St. Joseph's Children's Hospital, St. Joseph's Women's Hospital, St. Joseph's Hospital-North and St. Joseph's Hospital-South) to its 100 Top Hospitals® list for the fifth consecutive year.
Healthgrades placed BayCare's St. Joseph's Hospitals among the top 15 hospitals in the U.S. for COVID-19 care.
Newsweek ranked Mease Countryside Hospital, Morton Plant Hospital and St. Joseph's Hospitals among the World's Best Hospitals for 2022.
U.S. News & World Report included Morton Plant Hospital, St. Anthony's Hospital and St. Joseph's Hospitals on its 2022 Best Hospitals list.
The American College of Cardiology awarded TAVR certification to Morton Plant Hospital and St. Joseph's Hospital for excellence in treating patients receiving transcatheter valve repair and replacement.
The Leapfrog Group, a nonprofit that promotes patient safety, awarded an "A" to nine BayCare acute care hospitals in fall 2022.