Giving Hope to Cancer Patients

Darleen Gotico-Alvarez was in her 36th and final chemotherapy treatment for breast cancer in 2013, following a mastectomy, when she found her future.
"I looked around the infusion center at all the patients getting treatment. I thought, 'What diagnosis did they have? How were they told about their diagnosis? Were they alone? Do they have support? Or someone to talk to?' " Gotico-Alvarez said. "It was then that I decided to go to school to become a nurse. I wanted to be the answer to all those questions. My first day (at nursing school) was April 2014, six months after my last treatment."
Since graduating in 2016, Gotico-Alvarez has built a strong legacy at BayCare - the place where she was treated for cancer - first as a nurse on the oncology unit at St. Anthony's Hospital in St. Petersburg and now at Morton Plant Hospital in Clearwater.
"There was never a doubt that I'd become a BayCare team member and pay forward the care these doctors gave me," she said. "I don't share my story with every cancer patient, but I know when my story can create a connection and maybe change their outlook. This connection isn't always with just the patient. The connection helps their caregiver as well."
To help her patients, Gotico-Alvarez carries a picture of herself when she was receiving treatment. "I was 10 days out of my first chemo treatment, totally bald, with my port dressing showing," she said. "When I show patients my picture, I see the anxiousness leave their body. And they know I get it. Not only do I carry the picture for them, but for me, too. My picture reminds me why I'm doing what I'm doing, especially during those rough, busy, 12-hour shifts."
Cancer survivor and BayCare nurse Darleen Gotico-Alvarez cares for patient Maureen Rhoades.
Doing the Right Thing

The patient had arrived at BayCare Urgent Care on U.S. 19 in Pasco County aboard his electric wheelchair, the only thing of value he owned. Living outside behind an abandoned building, the patient, an amputee, had strapped all his belongings to the chair. But he needed to be in a hospital. When the ambulance arrived, there was no room for the chair.
That's when the urgent care team reached out to Paul Canterbury, a BayCare HomeCare supervisor who oversees the delivery of durable medical equipment (DME) to homebound patients. Could he and his team help? Of course, Canterbury said.
In short order, Wil D. Pujols, senior patient services specialist, dispatched a truck to pick up the chair. The team cleaned the chair. Washed the wheels. Scrubbed stains. They repacked the man's belongings in clean bags and put his wallet and identification cards away for safekeeping. When the hospital called a few days later, Pujols and his drivers personally delivered the wheelchair to the patient's hospital room.
"The things we all have, we take for granted," Pujols observed later. "He didn't have any of those things. That man greeted that wheelchair like it was a long-lost relative."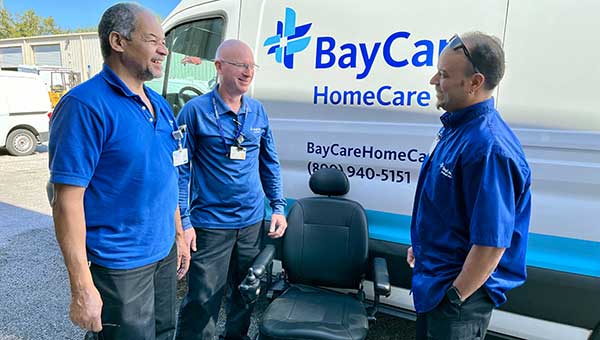 BayCare DME Branch Services team members (left to right) David Peralta, Charlie Lee and Wil Pujols helped a homeless man with his electric wheelchair.
Giving Back

Soledad Flores, a Mexico native, was just 6 when her parents brought the family to the United States to work at a strawberry farm near Plant City. Eventually, Flores and her sister would join them in the fields to help. Flores, by age 17, would leave home to start her own family. But then a fateful conversation with two teachers from the Catholic Charities' San Jose Mission in Dover would change everything. They told her about programs to help farmworkers get an education.
Soon, Flores had her high school diploma and her certified nursing assistant (CNA) certificate. And a seed was planted. Someday, she thought, she could return to the San Jose Mission Clinic and help other migrant families like hers.
But it would be a few years. First, she joined the team at BayCare's St. Joseph's Hospital in Tampa. Fourteen years later, she earned a nursing degree from the University of South Florida and joined a surgery team at BayCare's South Florida Baptist Hospital (SFBH) in Plant City.
Then, in 2022, the position she was waiting for at the San Jose Mission Clinic finally opened. By that time, however, Flores was unsure. She enjoyed her work at SFBH and valued her manager, Nancy Guzman, who'd always been her cheerleader. But Guzman encouraged Flores to follow her dream.
Now Flores works just steps away from where she took her CNA classes as a Faith Community Nurse, providing services ranging from labs to obstetrical services and treatment for diabetes and hypertension. Physicians also come to the clinic and donate their time and surplus supplies to the farmworker community. She's glad she came back.
"This place is special to me," Flores said.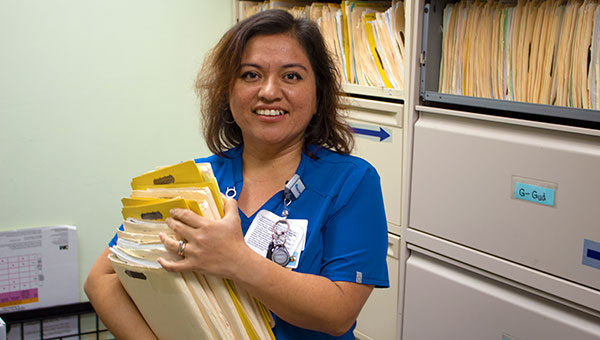 Soledad Flores, a former farmworker, wanted to help other farmworkers like herself, so she became a nurse in a clinic that serves them.
Serving Floridians After Hurricane Ian

When Hurricane Ian weakened and left Florida's west coast during the late morning of September 29, it meant a scale-down and an eventual return to normalcy for most BayCare team members. Although impacted, Tampa Bay escaped the massive devastation that Ian, one of the most destructive hurricanes to affect Florida, caused to the south.
Two BayCare team members, Patty Cravey and Jack Kilkelly, saw that destruction firsthand days after the storm when they were deployed to Sarasota Memorial Hospital-Venice as members of the federal Disaster Medical Assistance Teams (DMAT).
Over the next 12 days, Cravey, a registered nurse who works as an emergency preparedness coordinator at St. Joseph's Hospital-North and St. Joseph's Hospital-South, and Kilkelly, who is a nursing professional development practitioner for BayCare, would help run a medical tent outside the hospital's emergency department, reminiscent of the long-running "M*A*S*H" television series of the 1970s and '80s.
"The hospital's ER was seeing three times its normal volume," said Cravey, a 30-year BayCare team member. "We were there to take that pressure off them. Everything was closed—doctor's offices, urgent cares, pharmacies."
"I feel privileged to do it," said Kilkelly, who's been with BayCare for 20 years and whose BayCare experience includes being a St. Joseph's Hospital paramedic and Mease Dunedin Hospital ICU nurse. "It's satisfying, you're helping people who really need it. They genuinely appreciate it. They may not have running water or their roof was ripped off. They're treated, they feel better and they come back two or three days later and thank us. They may have lost their jobs, cars and houses and they're coming back thanking us and bringing us lemonade or something else. I actually think I should be thanking them for the opportunity."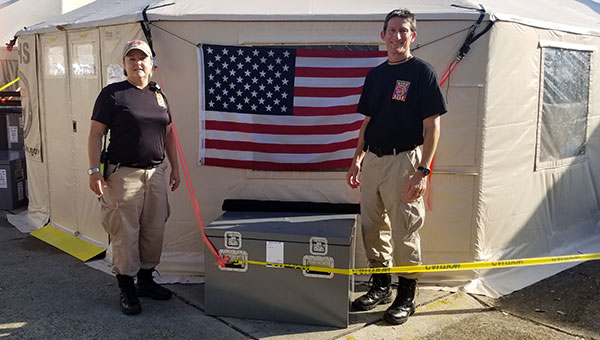 BayCare team members Patty Cravey and Jack Kilkelly serve on the federal Disaster Medical Assistance Teams and were deployed after Hurricane Ian. For 12 days, they helped operate a medical tent where patients were treated outside overloaded Sarasota Memorial Hospital-Venice.
Connecting a Father to His Family

The man had been brought to South Florida Baptist Hospital (SFBH) after becoming ill at a bus stop.
Tests showed he had recently had a stroke, and nurses said he told them stories interspersed with illogical information and wrong dates and names. But also woven through those stories was information that suggested they were talking to a man who was estranged from his family in Mexico.
As the hospital's Care Coordination team established contact with the Mexican embassy in an effort to learn more about his family, nurse helper Angela Cole was assigned to the patient because he continued to be confused due to the stroke. Cole was fascinated with him and his stories, as was Eva Rodriguez, an SFBH housekeeper. They, like the patient, were Spanish speakers, and so communicated easily with him.
"He was telling me about his family and how he hadn't seen them in years. I'd sit with him and listen to his stories," Cole said. "I began writing down the names of his family members." Then Rodriguez found an important clue when she went to wash the patient's clothing. "I emptied his pockets and found his family pictures. He had written their names on the back of the photo."
The pair turned to social media, finding a woman with the same name as in one of the pictures but in a different city in Mexico. They took a chance and sent a message. A response confirmed it was his daughter. The woman had been trying to find her father for years. Soon they were talking to the woman by phone.
"She was crying and telling us she'd never thought she'd hear from him again," Rodriguez recalled. His daughter, once contacted, reached out to the Mexican consulate on her own to facilitate a reunion. The patient was reunited with his family in Mexico two months after his admission to SFBH.
"It feels good to know that we were able to get him back home," Cole said.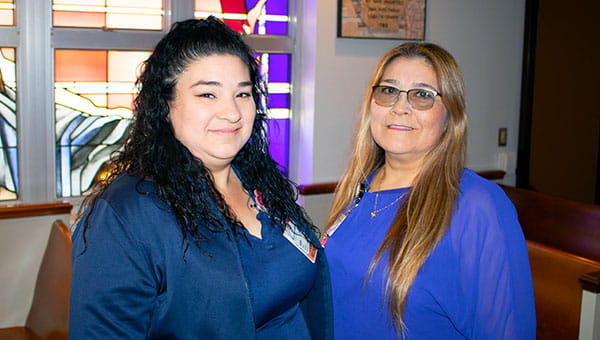 BayCare team members Angela Cole, left, and Eva Rodriguez helped a patient reconnect with his family in Mexico.
Helping Wherever Help Is Needed

Gabe Barreto, an imaging coordinator at St. Joseph's Hospital-North, was still in his hospital scrubs driving home with his family when traffic came to a standstill near the intersection of U.S. 19 and State Road 52 in the Port Richey area. A person was lying on the side of the road surrounded by onlookers.
Barreto jumped out of the car. Within minutes, he and another person began administering CPR to the unconscious person. They stopped compressions to check for a pulse but found none. They continued to work until sheriff's deputies arrived with a breathing apparatus and a medication that works like smelling salts. The person regained consciousness but was confused and disoriented. They had no recollection of what happened and began asking about family. Barreto stayed with the person until emergency management services arrived and he could brief them.
"If I see somebody who needs help or if I see an accident, I stop and pull over," Barreto said. "We (health care professionals) do it for so long, when we see an accident, we go into medical mode. It's our second nature."

When it comes to caring, Gabe Barreto, an imaging coordinator at St. Joseph's Hospital-North, is never really off the clock.
For the Youngest Cancer Fighters

For two years, Oscar Guerrero hadn't had a real haircut.
Working as the oncology department secretary at St. Anthony's Hospital, Guerrero would wear a ponytail or tuck his hair behind his ears as it flowed down his back. He used an old remedy from his grandmother (mayonnaise, olive oil, one egg) every six months to try to keep his hair healthy.
When his ponytail recently reached about 10½ inches, he knew it was time for a cut. It was the third time Guerrero had donated his hair to an organization that supplies wigs to children suffering hair loss.
Guerrero, a BayCare team member for about six years, turned to Beth Eschenfelder, St. Anthony's oncology nurse manager. On the fateful day, Eschenfelder, a hairdresser for 16 years before becoming a nurse, set up a makeshift salon on the sixth floor of the hospital's new patient tower. She put a drape around Guerrero and combed his hair. She put it into a double-rubber-banded ponytail then gently snipped it clean.
Although he won't personally know the child who will get his hair as part of a wig, Guerrero is happy to do it. And he plans to donate again. He hopes it'll encourage others to do the same: "I like donating my hair because it has a real purpose behind it."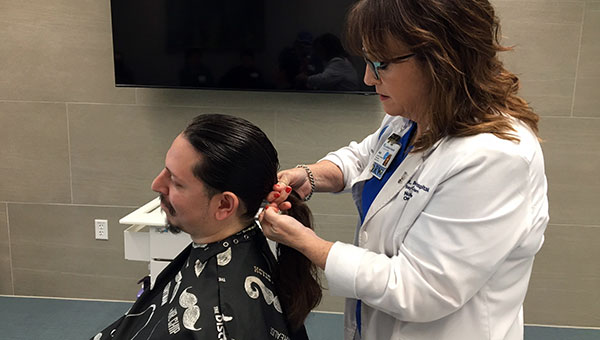 St. Anthony's Hospital team member Oscar Guerrero grows his hair long so he can donate it for wigs for children with cancer. At cutting time, Beth Eschenfelder, a fellow team member and former hairdresser, helps out.