Cataract Surgery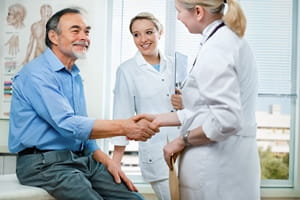 Not having clear vision can negatively affect you in a number of ways, including during work tasks, everyday responsibilities and when you're just trying to relax and enjoy the day. That is why it is so important to get any issues you have with your vision addressed, so you can live your life without hassle.
What is Cataract Surgery?
Cataract causes vision problems due to a clouding of the eye's lens. When the eye's lens becomes cloudy, it becomes difficult for our eyes to focus light correctly onto the retina. When having cataract surgery your clouded lens, or your cataract, is removed from your eye and substituted with a clear artificial lens implant. If you've had other eye procedures, such as laser correction, you can typically still receive a cataract surgery procedure.
For a list of ophthalmologists who perform cataract surgery at BayCare Surgery centers, please contact one of the locations below:
Bardmoor Surgery Center
BayCare Outpatient Center
Zena Lansky Pavilion
8787 Bryan Dairy Road, Largo, FL
(727) 394-5318
BayCare Surgery Center
2020 Trinity Oaks Blvd., Trinity, FL
(727) 372-4055
Carillon Surgery Center
BayCare Outpatient Center
900 Carillon Parkway, St. Petersburg, FL
(727) 561-2710
Physicians Surgery Center
705 16th St. N., St. Petersburg, FL
(727) 550-4500