Vascular Rehabilitation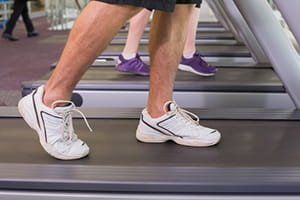 Vascular rehabilitation Supervised Exercise Therapy (SET) is a medically supervised exercise and education program to help you walk further with less pain, improve physical fitness, decrease symptoms and improve overall health. Upon completion of the program, a maintenance program is available specifically designed for you to continue your exercise regimen and promote long-term lifestyle changes.
Who Needs Vascular Rehabilitation-SET?
It is highly recommended for those who have experienced any of the following:
Peripheral artery disease (PAD)
Intermittent claudication (IC)
Leg pain with walking
About Vascular Rehabilitation-SET
Staffed by qualified health care professionals
The program is personalized to meet each individual's needs and reach their personal goals.
Educational topics include physical activity and information regarding vascular risk factors such as hypertension, diabetes, hyperlipidemia and tobacco use.
How Do I Enroll in Vascular Rehabilitation-SET?
The vascular rehabilitation-SET program requires a prescription from your physician. It's covered by Medicare and most insurance companies. Vascular rehabilitation-SET is a national clinical guideline for secondary prevention and recommended by the American Heart Association. Ask your doctor if you're a candidate for vascular rehabilitation-SET. If you need a physician, our Customer Service Center is available 24/7 to provide a referral, call (855) 233-0888 or find a doctor near you.
The following BayCare hospitals have vascular rehabilitation programs:
Mease Countryside Hospital
Morton Plant Hospital
Morton Plant North Bay Hospital
St. Anthony's Hospital
St. Joseph's Hospital
South Florida Baptist Hospital
Winter Haven Hospital