Certified Diabetes Care and Education Specialist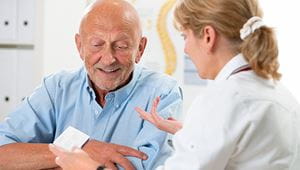 According to the Association of Diabetes Care & Education Specialists, diabetes affects nearly 26 million people, 8.3 percent of the U.S. population, and there are 79 million people who are considered to have prediabetes according to 2011 statistics. The number of Americans with diabetes is projected to double or triple by 2050. The American Diabetes Association reaffirms those numbers and estimates that 1.9 million cases of diabetes per year are diagnosed in people over age 20.
BayCare is on the front lines fighting this epidemic. We have diabetes education teams in many locations to help you manage your condition. Your education team includes registered nurses and registered dieticians who are Certified Diabetes Care and Education Specialists (CDCESs) with special training in diabetes management.
CDCESs are certified through the Certification Board for Diabetes Care and Education and are held to very high standards. Your CDE team will teach you about:
Meal planning
Blood glucose monitoring
Medications
Reducing risks of complications
Problem solving
Healthy coping
Being active
Talk to your physician about getting a referral to our Diabetes Education program or for more information call us at (855) 404-3339.
Learn more about Pediatric Diabetes and Endocrinology Services.